Press Releases
Am I There Yet? by Mari Andrew
The Loop-de-loop, Zigzagging Journey to Adulthood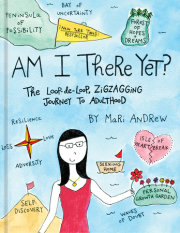 Mari Andrew
Imprint: Clarkson Potter
On sale: March 27 2018
Price: $19.99
Pages: 192
ISBN: 9781524761431
Contact:
Erica Gelbard
EGelbard@penguinrandomhouse.com
Mari Andrew (@bymariandrew) started doodling when she worked at a bakery—and she took some license with the display case labels. When customers noticed and began telling her the drawings brightened their days, Mari realized she could use her hobby to connect with people. After hitting a rough patch in her late 20s, she began to chronicle her work on Instagram. Nearly overnight, she became a sensation, garnering attention from Nylon, Huffington Post, Self, and also BuzzFeed, who wrote that these illustrations are "so spot-on, it feels like she's inside your brain." Now, when Mari Andrew posts something new, her 744K+ followers (including names like Ariana Grande, Elizabeth Gilbert, and Rowan Blanchard) rejoice.
AM I THERE YET?: The Loop-de-Loop, Zig-Zagging Journey to Adulthood (Clarkson Potter; $19.99; on sale 3/27/17) showcases Mari's starkly honest and absolutely on-point essays and illustrations on the feelings, comical complexities, and realities of growing up and finding yourself. Until now, Mari's thoughts and witticisms have only appeared in her illustrations, but in her debut book, she shares her most personal experiences in long-form essays (something she's never done before!), accompanied by spreads of her signature illustrations, 90 percent of which are brand new. The chapters are organized by universal themes of becoming an adult, including:
Chapter 1: Overcoming Uncertainty
Chapter 2: Creating Home
Chapter 3: Finding Purpose
Chapter 4: Love and Dating
Chapter 5: Heartbreak and Loss
Chapter 6: Overcoming Disappointment
Chapter 7: Discovering Yourself
Chapter 8: Finding Yourself
From creating a home in a new city to understanding the link between a good hair dryer and good self-esteem to dealing with the depths of heartache and loss, Mari's tales of the twentysomething document a road less traveled—a road that sometimes is just the way you're meant to go.
ABOUT THE AUTHOR
MARI ANDREW is a writer and illustrator from Seattle. In addition to her widely popular Instagram account, her writing and illustrations have appeared on Paste and HelloGiggles. She currently lives in New York City.
ABOUT THE BOOK
Am I There Yet?
Clarkson Potter | $19.99 | On sale 3/27/18
Hardcover | ISBN: 978-1524761431
Related Posts: