Press Releases
WOMEN IN SUNLIGHT
By Frances Mayes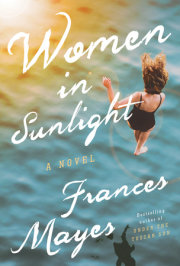 Frances Mayes
Imprint: Crown
On sale: April 3, 2018
Price: $27.00
Pages: 448
ISBN: 9780451497666
Contact:
Sarah Jean Grimm
2127828637
sgrimm@penguinrandomhouse.com
Building on the massive appeal of her beloved books of life in Italy—Under the Tuscan Sun, Bella Tuscany, Every Day in Tuscany, The Tuscan Sun Cookbook—FRANCES MAYES now returns to her most cherished subject with a novel, her first in an Italian setting. Written with Mayes's trademark warmth, heart, and delicious descriptions of place, food, and friendship, WOMEN IN SUNLIGHT (Crown; April 3, 2018) is the story of four American strangers who bond in Italy and change their lives over the course of one exceptional year. With charm and sensitivity, Mayes beautifully explores the deepest challenges of a well-lived life, from second chances and reinvention to grief, aging with purpose, and pursuing passions.
Kit Raine, an American writer living in Tuscany, is working on a biography of her close friend, a complex woman who continues to cast a shadow on Kit's own life. Her work is waylaid by the arrival of three women—Julia, Camille, and Susan—all of whom have launched a recent and spontaneous friendship that will uproot them completely and redirect their lives. Susan, the most adventurous of the three, has enticed them to subvert expectations of staid retirement by taking a lease on a big, beautiful house in Tuscany. Though novices in a foreign culture, their renewed sense of adventure imbues each of them with bravery and a fierce determination to thrive. But how? With their new neighbor Kit's friendship and guidance, the three friends embrace the Italian lifestyle, pursuing appetites long forgotten—and with drastic and unforeseeable results.
With her gift for luminous physical description, and vivid and affecting characterizations of humanity, Women in Sunlight is an unforgettable story of friendship and renewal.
About the Author
FRANCES MAYES is the author of seven books about Tuscany, including the now-classic Under the Tuscan Sun—which was a New York Times bestseller for more than two and a half years and became a Touchstone movie starring Diane Lane. It was followed by Bella Tuscany, Every Day in Tuscany, and two illustrated books, In Tuscany and Bringing Tuscany Home. She is also the author of the novel Swan, six books of poetry, and The Discovery of Poetry. Her books have been translated into fifty-four languages.
Related Posts:
You Might Also Like