Press Releases
WOMAN NO. 17 By Edan Lepucki
From The New York Times Bestselling Author of CALIFORNIA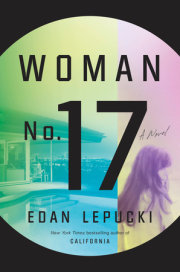 Edan Lepucki
Imprint: Hogarth
On sale: May 9, 2017
Price: $26.00
Pages: 320
ISBN: 9781101904251
Contact:
Rachel Rokicki
212-782-8455
rrokicki@penguinrandomhouse.com
PRAISE FOR WOMAN NO. 17
"Lepucki's brisk style and arresting characterizations make for a compelling portrait of womanhood in the present moment, right down to its intriguing integration of social media." —Publishers Weekly
"Lepucki's arch and provocative tale of elaborate and privileged dysfunction poses sharp questions about inheritance, self-expression, and love." —Booklist
"Always enjoyable…this novel succeeds by staying light on its feet." —Kirkus Reviews
"In Woman No. 17, Lepucki has crafted an intricate, gripping story of people behaving very badly. You will want to race to the end to see what happens, but don't cheat yourself. This book deserves to be savored—gorgeously written, darkly comic, smart, and thrilling." —Cynthia D'Aprix Sweeney, New York Times bestselling author of The Nest
"Woman No. 17 fizzes with references to contemporary culture and sparks with larger, timeless questions: Where is the line between performance and identity? What separates life from art? And can we ever escape the gravitational pull of our parents? Edan Lepucki shows herself to be a sharp-eyed chronicler of our modern world." —Celeste Ng, New York Times bestselling author of Everything I Never Told You
"Woman No. 17 is a provocative and timely meditation on art, authenticity, and representation in a digital age. The increasingly gripping plot suggests the outcomes of a thriller, but at the crucial moment the novel swerves toward subtly profound truths about our capacity for self-sabotage and self-reinvention, the power of trauma to shape lives, and the inexorable gravity of family secrets. Lepucki's smooth prose and deft handling of point of view reveal a writer fully in command." —Matthew Thomas, New York Times bestselling author of We Are Not Ourselves
"Taut as a thriller (with plenty of sex and secrets), Woman No. 17 raises big questions about identity, art, ethics, parenthood, and more. In Edan Lepucki's hands, the philosophical is transformed into a page turner; I don't know how she does it." —Rumaan Alam, author of Rich & Pretty
"[A] Hollywood noir about the electric bonds between women…this one is a safe bet for beach season." —The Week
---
Edan Lepucki's propulsive, provocative, and visceral new novel, WOMAN NO. 17 (Hogarth; May 9, 2017), will pull you in immediately and stay with you long after the final page. Edan is the New York Times bestselling author of the novel California, as well as the novella If You're Not Yet Like Me. A contributing editor and staff writer at The Millions, she has published fiction and nonfiction in McSweeney's, Narrative, the Los Angeles Times, the New York Times, and The Cut, among others. She is also the founder of Writing Workshops Los Angeles. Edan received tremendous acclaim for California—the book was a Los Angeles Times and San Francisco Chronicle bestseller, as well as appearing on many best book lists in 2014 (see praise attached). Now, WOMAN NO. 17 establishes Edan's rightful place alongside the best authors of literary fiction and suspense.
WOMAN NO. 17 is one of the most sly and deeply intelligent explorations of female relationships since Zoë Heller's Notes on a Scandal. High in the Hollywood Hills, the alluring and mercurial writer Lady Daniels has decided to take a break from her husband and asks for a trial separation. And yet, she's going to need help with childcare if she's ever going to finish her memoir. In comes S, a magnetic young artist, who will live in the secluded guest house out back, care for Lady's precocious toddler, Devin, and keep a watchful eye on her older, teenage son, Seth. As S settles into her new posh surroundings, she performs her day job beautifully, quickly drawing the entire family into her orbit, and becoming a confidante for Lady. But as the summer wears on, S's connection to Lady's older son takes a disturbing, and possibly destructive, turn. S is also hard at work on a secret project of her own. Lady and S will move closer to each other as they threaten to harm the things they hold most dear.
Darkly comic, atmospheric, and tense, this mesmerizing new novel defies expectation and proves Edan to be one of the most talented and exciting voices of her generation.
Related Posts: