Press Releases
THE WOLF ROAD by Beth Lewis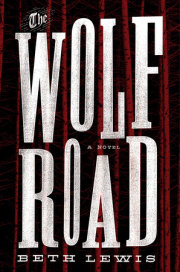 Beth Lewis
Imprint: Crown Publishers
On sale: July 5, 2016
Price: $26.00
Pages: 368
ISBN: 9781101906125
Contact:
Rebecca Welbourn
212-782-9634
rwelbourn@penguinrandomhouse.com
Praise for THE WOLF ROAD
"An unrelenting psychological thriller of wilderness survival wrapped in a terrifying hide-and-seek game of trying to escape an unspeakable past. … Fans of suspense with a touch of horror will be pulled into Elka's intense struggle to find peace and redemption as the whole truth is finally revealed." —Booklist
"Arresting…[an] odyssey that highlights the striking wilderness landscape and Elka's grit." —Publishers Weekly
"A white-knuckle trip through a gritty, frightening, and all-too-plausible post-apocalypse. You won't know whether to root for or be afraid of heroine Elka, and you won't be able to put the book down." —Paul Tremblay, author of A Head Full of Ghosts 
"A remarkable first novel that drew me in from page one. I was reminded of the beautiful savagery of Cormac McCarthy's The Road and the elegiac overtones of Dickey's Deliverance while reading—but Lewis has crafted something completely unique here, carried so powerfully along by the voice of its indelible young narrator." —Nick Cutter, author of The Troop
"Addictive and compelling…an apocalyptic thriller with a dark, horrible heart. It's impossible not to root for Elka as she fights her way through a chilling—but disturbingly familiar—wasteland." —Kelly Braffet, author of Save Yourself
"Stark and soulful, The Wolf Road is a brutal yet poignant journey into the truth of one girl's origins in a shattered wilderness. It masterfully dances between the savagery of the wild and the raw, blunt humor of frontier logic. A rollicking, striking read." —Robert Jackson Bennett, author of City of Stairs 
"Dazzling…a literary thriller that weaves lush language and unforgettable characters into a genuine page-turner." —Scott Hawkins, author of The Library at Mount Char
"An extraordinary novel—dark and funny and full of wild energy. Elka is a brilliant creation—fierce and vulnerable at the same time. Her story and her voice pull you in from the first page and never let you go. Gripping and unforgettable." —Antonia Hodgson, author of The Devil in the Marshalsea
---
In her debut novel THE WOLF ROAD (July 5, 2016; Crown), author and managing editor at London's Titan Books Beth Lewis introduces us to a world decimated by an unnamed, apocalyptic event and inhabited by desperate people accustomed to hunting, tracking, and killing to survive. Among them is Elka, the young heroine whose unmistakable voice guides us through the untamed landscape of the area formerly known as British Columbia on her journey to escape the horrors of her own past.
Everything Elka knows of the world she learned from the man she calls Trapper, a solitary hunter who took her under his wing when she was just seven years old. He has taught her how to shoot, track, set snares, and start fires—all the skills necessary to survive in a wild, lawless land where men are at the mercy of the elements and one another. But when wanted posters begin appearing in town, Elka realizes that the man she thinks she knows so well is harboring terrible secrets. The more Elka finds out about him, the less sure she becomes about her own identity—especially as she begins to recover some of the painful memories she's kept at bay throughout her childhood.
As the horrific facts emerge, Elka makes her escape, armed with nothing but her knife and the survival skills he's taught her. She sets out in the hope of finding her true parents, who traveled to the frozen north years earlier in pursuit of gold, but Elka can tell by the shadows that follow her that Trapper's on her trail—and he won't be letting his little girl go without a fight. As she encounters physical hardships, violence, and loneliness that at times test her sanity, she also strains to distinguish between fact and fiction in her own recollections. Ultimately, she will have to turn and confront not just Trapper but the dark reality of her past.
THE WOLF ROAD is a tautly suspenseful cat-and-mouse tale of justice and revenge, played out against a vast, unforgiving landscape—told by an unforgettable, tough-as-nails young heroine fighting desperately to escape the terrors of her childhood and rejoin humanity.
Related Posts:
You Might Also Like