Press Releases
With Pandemic, Scott Sigler offers an explosive conclusion to his trilogy
Sigler once again delivers the deadly doses of cinematic action, shocking twists, and worldwide carnage that have made him a genre standout.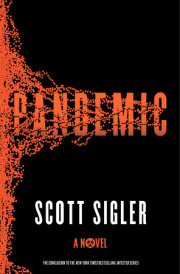 Scott Sigler
Imprint: Crown Publishers
On sale: January 21, 2014
Price: $26.00
Pages: 592
ISBN: 9780307408976
Contact:
Lauren Kuhn
212-782-8637
lkuhn@randomhouse.com
Advance Praise for Pandemic 
"Sigler does almost too good a job in creating an existential threat, and, in keeping with the hit TV series The Walking Dead, he doesn't hesitate to dispose of key characters. This apocalyptic epic will happily engage World War Z fans."—Publishers Weekly (starred review) 
"Sigler's brand of visceral, in-your-face horror, complemented by well-drawn characters and some very smart writing, makes this a surefire hit with horror and sf aficionados."—Booklist 
Scott Sigler's Infected shocked readers with its terrifying, close-up account of one man's struggle against an alien infection that turned his own mind and body against him. National media took notice, with coverage that included National Public Radio, the Washington Post, and Entertainment Weekly, who called Infected "Invasion of the Body Snatchers meets Wolverine football and the Marquis de Sade." Its New York Times-bestselling sequel, Contagious, wowed readers again by pulling back the camera to tell the larger story of America's continuing struggle against this growing, mutating, intelligent disease. 
Fans have waited eagerly for Sigler to conclude his epic alien-invasion trilogy, and now their requests have been answered. Pandemic: A Novel (Crown Publishers; January 21, 2014) is perhaps Sigler's most vivid, chillingly gruesome, and exhilarating thriller in the series. In Pandemic we see Margaret Montoya, the woman who outsmarted the disease in the first two books, take center stage as the main character. She saved the world, but only by sacrificing millions of lives — a decision that has haunted her and destroyed her life. 
But before Margaret's actions led to that alien intelligence being shot out of the sky, it launched one last payload — a tiny soda-can-sized canister filled with microorganisms engineered to modify every human being they touch, creating twisted nightmares set on wiping all of humanity from the face of the earth. For years, the canister has rested, undisturbed and impotent, deep beneath the waters of Lake Michigan. Until now. 
Drawing comparisons to writers ranging from Robert A. Heinlein to Michael Crichton to Stephen King, Sigler has established a ravenous following with this brilliantly plotted series that mixes horror, medical fact, and science fiction as it has never been done before. Pandemic delivers the deadly doses of cinematic action, shocking twists, and worldwide carnage that have made him a genre standout.
 ABOUT THE AUTHOR: Scott Sigler is a popular podcaster and the New York Times bestselling author of the novels Infected, Contagious, Ancestor, and Nocturnal.
Related Posts:
You Might Also Like