Press Releases
With her latest book, Doris Chan provides crocheters endless opportunities to design gorgeous garments
Convertible Crochet: Customizable Desgins for Stylish Garments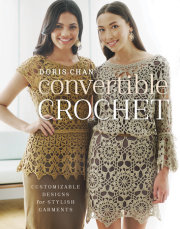 Doris Chan
Imprint: Potter Craft
On sale: May 21, 2013
Price: $21.99
Pages: 144
ISBN: 9780307965707
Contact:
Kim Small
212-572-6067
ksmall@randomhouse.com
A lacy cape that transforms into a swinging skirt?  A cardigan that unbuttons into a sari wrap or shawl? A hexagon motif that morphs from cozy throw to an easy vest just by changing a few joins? All crafters love creative options when it comes to their work, and author Doris Chan provides crocheters endless opportunities to design incredible garments with her latest book, CONVERTIBLE CROCHET: Customizable Designs for Stylish Garments (Potter Craft, $21.99, on sale: May 21, 2013).
With her signature humor and friendly approach, Doris easily walks readers through the beginning steps of creating a single design. Once that is mastered, the reader learns how to make a constellation of 24 motifs that are interchangeable, connectable, and endlessly adaptable. These motifs transform into versatile designs that can be assembled or styled into a variety of fashions. The book offers a wealth of guidance and fully customizable patterns that will allow crocheters to make any project fit their personal style and body shape.
However you choose to crochet and wear the 22 projects in CONVERTIBLE CROCHET—upside down or right-side up, fitted or loose, as a peplum tunic or a dress—they're just the beginning of your new adventure in convertible design!
#    #    #
About the Author:
DORIS CHAN broke into the crochet design scene when a photograph of her first doily shawl attracted the attention of a notable yarn company, and she's been at the forefront of modern crochet design ever since. Her work is featured in the design catalogs of yarn companies, including Caron International and NaturallyCaron.com, Tahki Stacy Charles, and Coats & Clark; in magazines such as Interweave Crochet, Vogue Knitting Crochet, and PieceWork, among others; as well as on Knitting Daily TV and Knit and Crochet Now on public television. She is an avid professional member of the Crochet Guild of America and a CYCA-certified crochet instructor. Catch up with Doris at her site dorischancrochet.com and discover her independent pattern line, DJC Designs.
Coming soon from Interweave Crochet: Doris Chan's DVD workshop Top Down Construction.
Related Posts: