Press Releases
The Witch of Lime Street: Séance, Seduction, and Houdini in the Spirit World
by David Jaher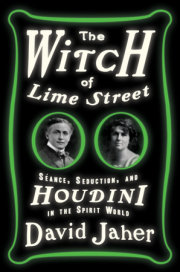 David Jaher
Imprint: Crown
On sale: 10-6-15
Price: $28
Pages: 448
ISBN: 9780307451064
Contact:
Dyana Messina
212-572-2098
dmessina@penguinrandomhouse.com
Advanced Praise for THE WITCH OF LIMESTREET
"Jaher brings Harry Houdini's crusade against Spiritualism back into popular knowledge in his gripping first book…a fascinating look at the Spiritualist movement in 1920s America."
—Publishers Weekly (starred review)
"Jaher's narrative style is as engaging as his character portraits are colorful. Together, they bring a bygone age and its defining spiritual obsessions roaring to life."
—Kirkus Reviews
"A beautifully written, deeply researched, and delightfully mysterious tale of grifters and ghosts in the Jazz Age. David Jaher writes about the battle between science and Spiritualism with a charming combination of sympathy, skepticism, and suspense. Jaher has made a great debut as a historian and a storyteller."
—Debby Applegate, Pulitzer Prize–winning author of The Most Famous Man in America  
"A perfectly told mystery story involving a famed early-twentieth-century medium, who thrilled her followers and puzzled even celebrity skeptics such as Harry Houdini. This compelling book by David Jaher is a genuinely lovely exploration of our belief systems, both magical and rational. I can promise you that once you finish it, you'll want to sit down and read it again. That's exactly what I did."
—Deborah Blum, Pulitzer Prize winner and author of Ghost Hunters and The Poisoner's Handbook  
"A spectacular debut that is both a thrilling page-turner and an unforgettable tale of a high-stakes rivalry."
—David King, bestselling author of Death in the City of Light and Vienna, 1814  
"Jaher's meticulously researched account of Scientific American's infamous contest to find an authentic medium had me racing through the pages to find out how it all turns out. To keep this spoiler-free I'll just say that the paranormal showdown of the early twentieth century doesn't wrap up how you may think."
—Stacy Horn, author of Unbelievable: Investigations into Ghosts, Poltergeists, Telepathy, and Other Unseen Phenomena, from the Duke Parapsychology Laboratory 
"David Jaher's tale of the bizarre 1920s fever fad for Spiritualism and séances is as gripping as a mystery thriller, as evocative of that post–Great War decade as a documentary, and as haunting as a ghost story. A fascinating piece of time travel to a forgotten era."
—Kate Buford, author of Native American Son: The Life and Sporting Legend of Jim Thorpe 
"In this meticulously researched and entertaining work, David Jaher explores a largely forgotten chapter in Anglo-American history—the post–World War I rise of Spiritualism, born of a deep desire to commune with the spirits of slain soldiers. The cast of fascinating, masterfully drawn characters ranges from Harry Houdini, a supreme rationalist, to Margery Crandon, a self-proclaimed Boston medium with a huge following. This is, on a deep level, a cautionary tale of the bizarre, painful deception and self-deception associated with human unwillingness to accept the finality of death—especially youthful death."
—Susan Jacoby, author of Freethinkers and The Age of American Unreason
"Reads like a collection of mysterious tarot cards—Ouija boards, bizarre madame mediums, and yes, our friend the Great Houdini. Read it if you dare."
—Lily Koppel, New York Times bestselling author of The Astronaut Wives Club 
___________________________________________________________________________________________________________________________________________
Is there life after death? That question has been posed for all of human history, but in the early twentieth century, after millions of lives had been sacrificed on the battlefields of World War I and lost to the Spanish flu epidemic, the search for an answer would reach new heights. As the bereaved desperately sought ways to connect with their dead loved ones, psychics and spirit mediums emerged from the shadows to offer hope and solace. By the 1920s, Spiritualism was as in vogue as jazz, and in 1923, Scientific American magazine launched the era's most ambitious inquiry into the paranormal. Assembling a five-man committee of esteemed experts, the magazine offered a large cash prize to the medium who could demonstrate verifiable psychic phenomena. What ensued is an epic story of mystery and rivalry that screenwriter David Jaher has masterfully brought to life in THE WITCH OF LIME STREET: Séance, Seduction, and Houdini in the Spirit World (Crown; October 6, 2015). 
It was famed author Sir Arthur Conan Doyle who first brought Mrs. Mina Crandon to the attention of the Scientific American. After the committee of judges had investigated and discredited countless frauds and charlatans, Mrs. Crandon emerged as the first medium whose powers seemed promising. The wife of a distinguished Boston surgeon, "Margery," as she was called, had become a rising star after purportedly channeling the ghost of her long-deceased brother. Esteemed scientists who participated in her Lime Street séances wrote chilling reports of levitated objects, disembodied voices and sounds, ghostly touches, and diaphanous forms that seemed to emanate from the medium's body. Members of the committee were unable to debunk her phenomena. Only one obstacle stood between Margery and the prize: the fifth judge of the psychic contest—none other than Harry Houdini.
As a master illusionist, there was perhaps no one more qualified to investigate Margery's mystifying effects. For years, Houdini had sought out mediums who could contact his own dearly departed mother, only to find hucksters employing the tricks and techniques that he himself had once presented in his spook shows. Those experiences had made him one of Spiritualism's staunchest critics, and set the stage for what would soon become an epic and—to this day—controversial showdown between those who believe in life after death and those who do not.
THE WITCH OF LIME STREET is a spellbinding account of a forgotten time, not so long ago, when the barriers between the living and the dead seemed permeable. Jaher has crafted a dynamic narrative that brings readers into the séance circle—with an incredible cast of characters—to ponder the spirit world for themselves.
About the Author
David Jaher received a BA from Brandeis University and an MFA in film production from New York University. At NYU, he was the recipient of the WTC Johnson Fellowship for directing. Jaher has been a screenwriter and a professional astrologer. A New York native and resident, this is his first book.
Related Posts:
You Might Also Like