Press Releases
OUT ON THE WIRE: The Storytelling Secrets of the New Masters of Radio
By award-winning cartoonist and writer JESSICA ABEL and with a foreword by IRA GLASS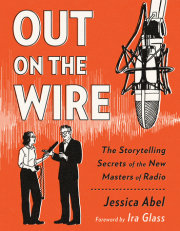 Jessica Abel
Imprint: Broadway Books
On sale: August 25, 2015
Price: $17.00
Pages: 240
ISBN: 9780385348430
Contact:
Rebecca Welbourn
(212) 782-9634
rwelbourn@penguinrandomhouse.com
Early Praise for Out on the Wire                                  
"This instructive, impassioned, and educational volume uses a deliberate and friendly approach in the vein of Scott McCloud.… A must-read not just for listeners of today's great flowering of audio storytelling but for those who want to learn how to do it themselves."—Publishers Weekly
"A richly engaging graphic narrative about radio storytelling and storytelling in general…a spirited work whose readership should not be limited to those who make radio narrative or love to listen to it."—Kirkus Reviews (starred review)
"Engaging… Just as it's impossible not to 'see' her informants' stories, it's impossible not to 'hear' Abel's comics."—Booklist
---
Every week, over 2.1 million devoted fans tune in to This American Life, and Radiolab averages 4 million downloads per month. Millions more listen to or download The Moth, Planet Money, Snap Judgment, Radio Diaries, 99% Invisible, and countless other nonfiction narrative radio shows. The compelling stories these shows produce are cinematic in scope and approach—intricately weaving sound into robust and engaging storytelling. Anchored by surprising characters and big questions, their stories are tightly structured, edited, and soundtracked, and they introduce us to authentic voices from every walk of life.
OUT ON THE WIRE: The Storytelling Secrets of the New Masters of Radio (August 25, 2015; Broadway Books), by award-winning cartoonist and writer Jessica Abel and with a foreword by Ira Glass, is an utterly unique and masterfully drawn work of graphic nonfiction thattakes us behind the scenes of today's most ambitious radio programs to witness an intensely creative medium that's changing the way we tell stories. As Abel states and reveals, radio is "the most fertile ground for narrative nonfiction in English language media."
Abel first collaborated with Glass over fifteen years ago on a book called Radio: An Illustrated Guide, which provided an in-depth look at one week in the production of This American Life. OUT ON THE WIRE grew out of this initial project and her desire to explore "the kind of radio that entrances me as a listener, and that excites me as a thinker." Radio and podcasts today are entrepreneurial and DIY; there's a can-do, collaborative spirit that characterizes people working in this field, fearlessly breaking new artistic ground. And more than ever, given the excellence and explosive popularity of shows like Serial, it's clear that their creative producers hold the key to storytelling secrets that the rest of us must learn. No book to date has so successfully and intelligently illustrated those secrets, gleaned straight from the frontlines of radio's revolution. With the help of Glass, Abel uncovers just how producers construct a story, spilling some insider details along the way. Jad Abumrad of Radiolab talks about chasing moments of awe with scientists, while Planet Money's Robert Smith speaks candidly about his slightly embarrassing strategy for putting interviewees at ease.
Informative, inventive, and truly one-of-a-kind, OUT ON THE WIRE reveals the magic that makes these shows great and why we want to listen to them. In its pages, Abel provides nothing less than a master class on how to find, tell, and produce a great story.
About the author: Jessica Abel is the author of two books about making comics, Drawing Words & Writing Pictures and Mastering Comics, written in collaboration with her husband, the cartoonist Matt Madden. She is also the author of the graphic novel La Perdida and a new science-fiction comics series called Trish Trash: Rollergirl of Mars. Abel is currently on a residency at the Maison des Auteurs in Angoulême, France.
Related Posts: