Press Releases
How to Window Box by Chantal Aida Gordon and Ryan Benoit
Small-Space Plants to Grow Indoors or Out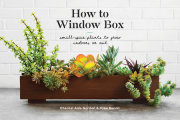 Chantal Aida Gordon and Ryan Benoit
Imprint: Clarkson Potter
On sale: February 27 2018
Price: $14.99
Pages: 176
ISBN: 9781524760243
As millennials and hip suburbanites begin to embrace smaller and smaller living spaces, there's no better time than now to grow gardens on a more fun-sized scale. From the founders of the popular gardening blog The Horticult, How to Window Box: Small-Space Plants to Grow Indoors or Out (Clarkson Potter; on sale February 27, 2018; $14.99) is a gift-able guide to the container garden, which is by far the most accessible garden for any skill level, space, or quality of light.
With bright photography and a thorough introduction to soil, watering, and plant varieties, How to Window Box will show readers how to plant, arrange, and care for sixteen window-box gardens. They'll also learn how and where to install their box—on balcony railings, in windows, and along the edges of porches and patios. From sunny succulents to herb gardens, and everything in between, these indoor and outdoor projects showcase a range of styles as diverse as the people who own them.
Equal parts inspiration and practical resource—with tips throughout for dressing up any store-bought box with paint, grow lights, or trellises—How to Window Box shows renters and homeowners alike how they can own just a few square feet of green no matter where they live.
ABOUT THE AUTHORS
CHANTAL AIDA GORDON and RYAN BENOIT are the founders of the award-winning blog The Horticult. Gordon has written for T: The New York Times Style Magazine, Teen Vogue, NBC, and more. As an engineer, photographer, and founder of Ryan Benoit Design, Benoit invents and designs modern furniture, fixtures, and planters that have been featured in the New York Times. They live in Southern California.

###
ABOUT THE BOOK
How to Window Box
Small-Space Plants to Grow Indoors or Out
By Chantal Aida Gordon and Ryan Benoit
On sale 2/27/2018; $14.99
ISBN 978-1-5247-6024-3; hardcover
www.thehorticult.com
Related Posts: