Press Releases
The wildly anticipated debut cookbook from the founder of Skinnytaste.com
The Skinnytaste Cookbook: Light on Calories, Big on Flavor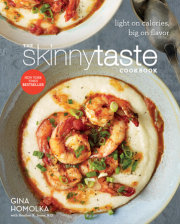 Gina Homolka
Imprint: Clarkson Potter
On sale: September 30, 2014
Price: $30.00
Pages: 320
ISBN: 9780385345620
Contact:
Erica Gelbard
212-572-6182
egelbard@penguinrandomhouse,com
As a busy mother of two, Gina Homolka started Skinnytaste.com when she wanted to lose a few pounds. She started skinny-fying her favorite meals so she could eat happily while still losing weight, quickly establishing Skinnytaste as the number one go-to resource for slimmed-down recipes that you'd swear are anything but.
In the her wildly anticipated debut cookbook, The Skinnytaste Cookbook: Light on Calories, Big on Flavor (Clarkson Potter/Publishers; September 30, 2014; hardcover; $30.00), Gina Homolka gives her fans exactly what they want: 150 easy, flavorful recipes that are miraculously low calorie and made from all-natural, easy-to-find ingredients. With 125 all-new dishes and 25 must-have favorites, it takes only one look to see why people go crazy for Gina's food.
Recipes in the book include:
SUNNY MORNINGS: PB&J Overnight Oats in a Jar; Winter Potato, Kale, and Sausage Frittata; Open-Face Bagels with Scallion-Lox Cream Cheese; Guiltless Chocolate Chip Pancakes
SKINNY-LICIOUS SOUPS & CHILIS: Breadless French Onion Soup with Parmesan-Asiago Crisps; Too-Good-to-Be-True Baked Potato Soup; Slow-Cooker Chicken Enchilada Soup; "Un"Stuffed Cabbage Soup
SANDWICHES ON THE LIGHTER SIDE: Buffalo Chicken Melts; Chicken Philly Cheesesteaks; Pear and Brie Grilled Cheese; French Bread Pizza Supreme
SKINNY BITES: Loaded "Nacho" Potato Skins; Bangin' Good Shrimp; Caliente Bean and Queso Dip; Cheesy "Fried" Mozzarella Bites
FABULOUS MAIN-DISH SALADS: Tuscan Panzanella Salad with Grilled Garlic Bread; Turkey Santa Fe Salad with Avocado Crema; Roast Beef and Watercress Pasta Salad
PERFECT POULTRY: Buttermilk Oven "Fried" Chicken; Fettuccine Alfredo with Chicken and Broccoli; Chicken Cordon Bleu Meatballs; Spaghetti "Squashta" with Turkey Bolognese
LEAN MEAT DISHES: Mongolian Beef and Broccoli; Slow-Cooker Mexican Pork Carnitas; Teriyaki-Glazed Grilled Pork Chops with Pineapple Salsa
FABULOUS FISH: Sweet ' N' Spicy Sriracha-Glazed Salmon; Kiss My (Shrimp and) Grits; Thai Coconut Mussels; Skinny Shrimp, Chicken, and Sausage Gumbo
MEATLEASS MAINS: Quinoa-Stuffed Peppers; Butternut Squash Lasagna Rolls; Skinny Broccoli Mac and Cheese; Cheesy Baked Penne with Eggplant
VEGGIE-LICIOUS SIDES: Vegetable Fried Brown Rice; Sweet Maple-Roasted Acorn Squash; Tangy Carrot Ribbon Salad; Seasoned Sweet Potato Wedges
SKINNY SWEET TOOTH: Double Chocolate Chunk Walnut Cookies; Silky Chocolate Cream Pie; Summer Berry Cobbler; Watermelon Lime Granita
With 100 stunning photographs and detailed nutritional information for every recipe, The Skinnytaste Cookbook is the ultimate handbook for skinny-fying the kitchen.
                                                #  #  #
ABOUT THE AUTHOR:
Gina Homolka is the founder of Skinnytaste, the award-winning blog that's been featured in Fitness and Better Homes and Gardens and on Glamour.com and FineCooking.com, among other media outlets. She lives on Long Island with her husband and their two children.
Heather K. Jones, R.D., is a registered dietitian, the author of several nutrition books, and the founder of www.heatherkjones.com, a weight-loss resource focusing on healing and hope instead of diets and deprivation.
Related Posts:
You Might Also Like