Press Releases
WHITE FUR by Jardine Libaire
A vivid, hypnotic story of a star-crossed couple, set among the glitz and grit of 1980's New York City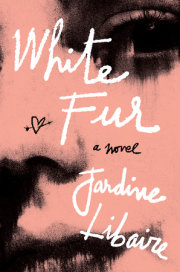 Jardine Libaire
Imprint: Hogarth
On sale: May 30, 2017
Price: $26.00
Pages: 320
ISBN: 9780451497925
Contact:
Rachel Rokicki
212-782-8455
rrokicki@penguinrandomhouse.com
*A BARNES & NOBLE DISCOVER NEW WRITERS PICK*
**A Book of the Month Club selection for 2017**
Praise for White Fur
"Intense and sensual with vivid, muscular writing, the story line gains page-turning momentum as it invokes the highs and lows of the 1980s. Recommended for readers of contemporary American literary fiction." —Library Journal, *starred review*
"Libaire's novel is an erotic and gritty reinterpretation of Romeo and Juliet…Writing with all the senses, Libaire demonstrates an ability to evoke vivid moods and places, drawing a stark and realistic depiction of '80s Manhattan. She also succeeds at giving equal weight and attention to both her protagonists, elegantly toggling between their perspectives. The most lively, memorable, and convincing character in the novel is the setting itself."—Publishers Weekly
"Two barely-20-somethings from opposite sides of the tracks fall in frantic love amid the lush grit of New York City in the 1980s…The real strength of the novel is its Technicolor atmosphere: Libaire's New York is a glittering whirlwind, raw and sweaty and intoxicating. A page-turning whirlwind steeped in pain and hope." —Kirkus Reviews
"White Fur is a love story with raunch, obsession and heart, told with frothy originality…Libaire's zesty second novel wraps two improbable lovers together like sticks of dynamite—and lights the fuse." —Shelf Awareness
"[The] setting is viscerally exposed and uniquely gritty, and Libaire's meaty, brazen, Ferrari-fast sentences prop it up well." —Booklist 
"Brilliantly written and deeply felt, this is a love story by turns comic and tragic, but always moving. Whether her characters are on the social register or the welfare roll, Libaire is a keen observer of human nature." —Philipp Meyer, author of The Son
"White Fur is glorious: dark, dirty, and sexy, lit up with yearning and raw, young love. Libaire's sentences left me breathless. This is a Roman candle of a novel. I absolutely loved it." —Amanda Eyre Ward, author of The Nearness of You and What Was Lost
"This sexy American fairytale about a star-crossed couple solidifies Jardine Libaire's status as poet laureate of late nights and young love." —Ada Calhoun, author of St. Marks Is Dead 
"Each page crackles with the intensity, fury, lust, and pure insane pleasure of first love. Jardine Libaire has written a chronicle of one couple's wild romance: its highs and lows, its delights and contractions, its beauty and its messiness. A delight to read." —Nathan Hill, author of The Nix
"A love story of equal parts grit and glamour, I loved White Fur for its honest portrait of the extremes of American society, and the love that can bloom anywhere, always, despite the odds. Jardine Libaire is an extraordinary talent." —Vanessa Diffenbaugh, author of The Language of Flowers 
---
With her forthcoming novel WHITE FUR (Hogarth; May 30, 2017), Jardine Libaire has crafted a sticky, tender, messy, graphic, violent, transgressive, ecstatic Romeo-and-Juliet tale set in the streets of 1980s New York City. After its sale to Hogarth, WHITE FUR was immediately bid on by a number of studios and production companies, and is now being developed for television with a prestigious outfit, along with a dedicated and acclaimed director—more to be announced soon.
Elise and Jamey are destined (or doomed) to be together, against reason and circumstance. Elise grew up without a father, unsure of her true racial identity, but she was always made painfully aware of her class: she's been raised in poverty, she doesn't deserve to dream, people like her live paycheck-to-paycheck, scrounging cash for groceries, cigarettes, diapers. Jamey is the "child king" to a prominent family banking firm and son of a fading Hollywood actress. His future has been laid out before him once he graduates from Yale: the Town & Country bride, a couple kids, and a job he will inevitably hate.
On the cold New Haven afternoon when Jamey meets Elise, she ends up threatening to burn his house down, and something massive is set in motion. What begins as sexual obsession soon leads to something far deeper. His love for her is awkward and unfamiliar and powerful, but is it worth exiling himself from the only life and society he's known? The consequences for the two young lovers are dangerous, and the age-old question remains: will their love be enough?
A searing, unforgettable new novel that captures the ferocity of young love with the intensity of Lauren Groff's Fates and Furies, the razor's edge of New York City as in West Side Story or American Psycho, and the fever of James Salter's A Sport and A Pastime, WHITE FUR will captivate readers from its first page to its most intense last. This enthralling novel will have readers falling hard for the resilient and brave Elise (who taps into a burgeoning female heroism, somewhere between Beyoncé's Lemonade and Buddhism), and the lonely golden boy Jamey (who experiments with turning entitlement on its head), as they watch their lives collide and their fates go off the rails forever.
Jardine Libaire is a graduate of Skidmore College and the University of Michigan Creative Writing MFA Program. She is the author of Here Kitty Kitty; WHITE FUR is her second novel for adults. Libaire lives in Austin, Texas. Visit: www.jardinelibaire.com
Related Posts: