Press Releases
Whatever Is Lovely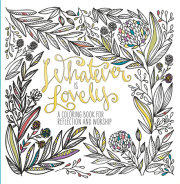 WaterBrook Press
Imprint: WaterBrook Press
On sale: 12/15/2015
Price: $14.99
Pages: 96
ISBN: 9781601429285
Contact:
Jessica Lamb
719-268-1915
jlamb@penguinrandomhouse.com
"Whatever is true, whatever is noble, whatever is right, whatever is pure, whatever is lovely, whatever is admirable–if anything is excellent or praiseworthy–think about such things…"
A New Coloring Book for Adults Combines Art and Faith
Whatever Is Lovely: A Coloring Book for Reflection and Worship (WaterBrook Press, December 15, 2015) is a new meditative, coloring experience for grown-ups. The trend in coloring books designed for adults has been covered by the New York Times and NPR, giving adults a creative way to detach from a screen-heavy world. From moms coloring alongside children to college students seeking a break from studying to working women winding down after work, coloring gives women in diverse walks of life an outlet to express their creativity.
Whatever Is Lovely builds on this popular hobby by engaging women not only creatively, but spiritually.
"Quieting our minds, spending time meditating on the words of the Lord, and entering into a time of quiet reflection and worship is more difficult than ever," said Kendall Davis, WaterBrook Multnomah Associate Editor and part of the developmental team behind Whatever Is Lovely. "We want to spend time with God, we want to be quiet and hear what He has to say, but distractions are literally everywhere. Our minds have been trained to move from topic to topic quickly, and focusing and thinking deeply on one thing can be tough—despite our desires and best efforts."
Each of the illustrations in Whatever Is Lovely contains a quote from Scripture, a popular hymn, or contemporary authors and speakers, including Lysa TerKeurst, Liz Curtis Higgs and Corrie ten Boom. By spending time meditating on Scripture and words of spiritual encouragement, coloring Whatever Is Lovely offers women a fresh way to engage time with God by slowing down and reflecting on Christ.
The 96-page coloring book contains 45 illustrations from a dozen different artists, offering a variety of styles to appeal to many different readers.
Related Posts: