Press Releases
WHAT I WAS DOING WHILE YOU WERE BREEDING
A Hilarious Memoir By TV Writer Kristin Newman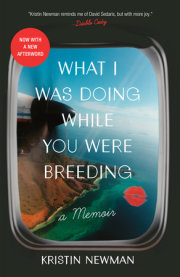 Kristin Newman
Imprint: Three Rivers Press
On sale: May 20, 2014
Price: $14.99
Pages: 304
ISBN: 9780804137607
Contact:
Rebecca Marsh
212-572-2544
rmarsh@randomhouse.com
In her fresh and funny memoir of traveling abroad, comedy writer Kristin Newman shares tales of self-discovery, romance, and adventure.
"Kristin Newman reminds me of David Sedaris, but with more joy."
–Diablo Cody
"Kristin Newman's tales of wanderlust are at turns hilarious, embarrassing and then truly inspiring. Her thrilling escapades make me want to get up off the couch and book a ticket to some exotic locale for a sexy adventure of my own. But I probably won't. And neither will you. Just read the book."
–Jane Lynch
"Funny and unflinchingly honest."
–Publishers Weekly
In her 20s and 30s, whenever Kristin Newman felt overwhelmed—by her job, by relationships, by life—she grabbed her passport and hopped on a transatlantic flight to the unknown. While all her friends were settling down with husbands and children, she became The Girl With the Great International Romance Stories. The Girl Who Never Lost Her Groove. The Girl Who Was Terrified of Losing Her Groove.
 Now in her hilarious and poignant memoir, WHAT I WAS DOING WHILE YOU WERE BREEDING (Three Rivers Press; Trade Paperback Original; On Sale May 20, 2014), Kristin is sharing her exotic eye-opening adventures, along with thoughtful reflections on life, love, and travel. From a New Year's Eve party in a Parisian cathedral to emergency surgery in the Dominican Republic, she takes readers across oceans and borders on a journey that will inspire plenty of laughs—and more than a little wanderlust.
As a sitcom writer living in Los Angeles, Kristin was stressed by her high pressure job and anxious about watching her friends get married and start families. Not ready to follow in their footsteps and yet loath to be a sad-sack single girl, she chose a different path: traveling the world and falling madly in love with attractive strangers. Kristin mastered the art of the "vacationship"—sweet, sexy, epic little romances that gave her the moments of love she wanted without sacrificing the freedom she craved.
Whether she's dishing on her international hook-ups or providing witty travel tips (like showing "the culturally correct amount of booty"), Kristin is a delightfully candid and entertaining tour guide. A firm believer in saying yes to new experiences, she advocates doing "the thing you're supposed to do in the place you're supposed to do it"—such as riding fuzzy horses in the arctic tundra or getting beaten with wet branches by old naked women in a Moscow bathhouse. Or as Kristin adds, "Getting romanced by a Brazilian in Brazil, or a Cretan in Crete…this, to me, just happens to be the gold medal in the Do the Thing You're Supposed to Do Olympics."
As she traveled to exotic locales (and met exotic locals), Kristin discovered that she was someone a little different on the road. With the help of Israeli bartenders, Argentinian priests, and Finnish poker players, she transformed into "Kristin-Adjacent"—a more mellow, less judgmental, and yes, slightly sluttier version of herself. Ultimately, her travels gave her more than just stamps on her passport and great stories to tell at dinner parties. They helped her realize what she was running from, what she really wanted, and why she was always taking off instead of taking root.
Perfect for armchair travelers and fans of comedic memoirs, WHAT I WAS DOING WHILE YOU WERE BREEDING is a refreshing and wildly funny debut from a born storyteller. Kristin Newman's irreverent tales of sowing her wild oats will have readers scrambling to pack their suitcases and follow her lead.
About the Author
KRISTIN NEWMAN is a veteran television writer who has worked in Hollywood for almost twenty years and written for hit comedies like That '70s Show, Chuck, and How I Met Your Mother. She is currently a co-executive producer for ABC's The Neighbors.
Find out more at www.theotherkristinnewman.com
Follow Kristin on Twitter @theotherkristin
More Advance Praise for WHAT I WAS DOING WHILE YOU WERE BREEDING
 "Kristin Newman explodes the idea of the 'singles scene' into a thousand tiny fragments and scatters them globally. This is misspent youth well-spent."
–Patton Oswalt
 "What I Was Doing While You Were Breeding is kind of like if Eat, Pray, Love were written by your funniest friend—a laugh-out-loud life guide for anyone who needs some help enjoying being single. Or for anyone who already loves being single. Or for anyone who is married. Basically, whoever you are, Newman will make you want to chuck it all and book a trip to Argentina. "
–Rachel Dratch
"Spoiler alert: I am the Will who drives a car over Kristin's foot in the Dominican Republic. After writing with Kristin at That '70s Show, I knew that her book would be incredibly funny, but it's also so heartbreaking, insightful, and full of adventure, romance, and sex sex sex! Do yourself a favor and read this book! Did I mention how funny it is and how much sex there is in it?"
–Will Forte
"I have had the pleasure of joining Kristin on some amazing adventures and can say without question that she is as good a writer as she is a traveler. Which is to say, slightly better when she's had a few glasses of wine."
–Nick Kroll
 "If Mark Twain was a woman and had actually done things in the countries he traveled to, he would have been a lot more pleasant. He also would have written this book instead of The Innocents Abroad. This book is so good that, of the many I have blurbed, this is the only one I read. "
– Joel Stein
 "I love my husband and kids, truly I do—but reading What I Was Doing While You Were Breeding makes me want to buy a one-way ticket around the world, or rather two tickets—one for me and one for her—so we could party till dawn, flirt with hairy European men, and break several international laws. Kristin puts the 'lust' in wanderlust and makes adventuring and even mis-adventuring sexy, fun, and, at times, even inspirational. "
 –Jill Soloway
 "Since we can't all sit next to Kristin Newman at a dinner party, it's a good thing she wrote What I Was Doing While You Were Breeding so we can all enjoy her funny and unexpected tales. Unlike the rest of us, Kristin took the road less traveled and that has made all the difference. Her sparkling wit and adventurous spirit will seduce you just as it did that guy in Argentina…and in Russia…and in Jordan…and so on. "
 –Nell Scovell
 "What I Was Doing While You Were Breeding is sly disguised as sexy. It reminded me of George Eliot mixed with a woodshop-safety film…A complete delight. "
–Stephen Tobolowsky
 "I wanted to read this book but my wife stole it off my nightstand, laughed at it for three nights straight, and lent it to her friends."
–Rodney Rothman
"Riotously funny, brutally honest, and hopelessly romantic…Newman's global romps and brave take-down of the dated, divisive dichotomy between happy breeders and desperate singles is one of the most refreshing things I've read in a long time and proof that everyone has her own path to happily ever after."
–Attica Locke, author "Black Water Rising," and "The Cutting Season," winner of the Edgar Award for Best First Novel
"Kristin's book is such an uproarious, side-splitting, jaw-dropping-while-miraculously-somehow-also-self-reflecting page turner, it makes me feel like I traded in my own wife and children for a time machine and a spot in her globetrotting duffel bag."
–Rob Kutner, writer, CONAN, and author, "Apocalypse How" and "The Future According to Me"
Related Posts: