Press Releases
Wellth by Jason Wachob
How I Learned to Build a Life, Not a Résumé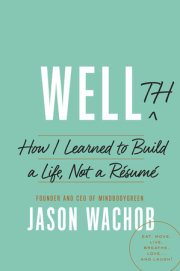 Jason Wachob
Imprint: Harmony Books
On sale: March 1, 2016
Price: $26.00
Pages: 256
ISBN: 9781101904480
Contact:
Lauren Cook
212-782-9486
lcook@penguinrandomhouse.com
In his first book, WELLTH: How I Learned to Build a Life, Not a Résumé (Harmony Books, on sale 3/1/16), mindbodygreen founder Jason Wachob shares how an unfulfilled equities trader found a new path to forging great "wellth."  He shares his personal story as a lens through which he redefines successful living and offers readers a new life currency to build on, one that leads to a deeply rich life.
"Many of us aren't satisfied with just trying to accumulate the most money and toys. The good life is no longer just about the material—instead, it can be found in a lifestyle that is devoted to mental, physical, spiritual, and emotional health. A wellthy existence is one in which happiness is attainable, health is paramount, and daily living is about abundance. It's a life in which work is purposeful; friendships are deep and plentiful; and there's a daily sense of richness or overflowing joy. But since there's no one-size-fits-all definition for a wellthy existence, I hope this book will serve as a guide to help you embark on your own personal journey that is both unique and meaningful."
Eat. Move. Work. Believe. Explore. Breathe. Connect. Love. Heal. Thank. Ground. Live. Laugh.
These are the building blocks of WELLTH.  Through his experience and personal story, as well as in exclusive material from popular expert contributors (including Dr. Frank Lipman, Dr. Lissa Rankin, Joe Cross, Charlie Knoles, Kathryn Budig, Dr. Aviva Romm, and Dr. Sue Johnson), we learn how we, too, can embrace this new movement while exploring what we can do to make every day more wellthy.
# # #
ABOUT THE AUTHOR: JASON WACHOB is the founder and CEO of mindbodygreen, the leading independent media brand dedicated to health and happiness, with 15 million monthly unique visitors.  He has been featured in the New York Times, Entrepreneur, Fast Company, and Vogue. Jason has a BA in history from Columbia University, where he played varsity basketball for four years. He lives in Brooklyn with his wife and loves German shepherds, Chuck Taylors, and guacamole.
Related Posts: