Press Releases
Weeknights with Giada by Giada de Laurentiis
Quick and Simple Recipes to Revamp Dinner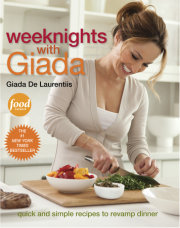 Giada De Laurentiis
Imprint: Clarkson Potter
On sale: March 27, 2012
Price: $35
Pages: 240
ISBN: 9780307451026
Contact:
Jill Browning
212-572-6182
jibrowning@randomhouse.com
"This is what weeknights look like in my house. I hope these recipes inspire you and your family to gather around the table (or picnic blanket!) for some fantastic dinners—and, most important, a whole lot of fun. Buon appetito!" —Giada
Giada De Laurentiis is one of America's most-loved culinary stars, adored for her Food Network hit shows and her New York Times bestselling cookbooks alike. Now, for the first time, in WEEKNIGHTS WITH GIADA: Quick and Simple Recipes to Revamp Dinner (Clarkson Potter; on sale March 27, 2012), Giada tackles weeknight cooking in her vibrant signature style.
As Jade grows up and schedules get busier, Giada has developed fantastic go-to recipes to get a delicious meal on the table in a flash. Here is Giada at her most inventive—and at her most laid-back. As she says in the dedication, WEEKNIGHTS WITH GIADA is "for everyone who comes home after a long day and wonders what to cook for dinner." Flavor, freshness, and fun take center stage while cooking times, pots dirtied, and stress are kept to a minimum. All of the soups, sandwiches, pizzas, pastas, and meat and fish dishes come together quickly, most in half an hour or less.
Some featured recipes in WEEKNIGHTS WITH GIADA include:
–SOUPS & SALADS: Creamy Sweet Potato and Rosemary Soup; Shrimp and Sausage Cioppino; Jalapeño and Cherry Tomato Gazpacho; Couscous with Watermelon, Watercress, and Feta Cheese; Lemony White Bean, Tuna, and Arugula Salad; Roasted Salmon, Snap Pea, and Cucumber Salad
–BRUSCHETTAS, SANDWICHES & PIZZAS: Bruschetta with Lamb, Fontina, and Greens; Mini Meatball Sandwiches; Ham, Gruyère, and Apple Panini; Mediterranean Halibut Sandwiches; Arugula Pesto, Ricotta, and Smoked Mozzarella Pizza; Antipasto Calzone; Burgers à la Pizzaiola
–PASTA & GRAINS: Farfalle Pasta Salad with Broccoli and Pearl Onions; Whole Wheat Linguine with Basil, Bacon, and Shrimp; Risotto with Currants, Pine Nuts, and Feta Cheese; Sweet Corn and Basil Lasagna; Wagon Wheel Pasta with Pancetta and Peas; Orzo with Smoky Tomato Vinaigrette
–MEAT, POULTRY & FISH: Grilled Sirloin Steaks with Pepper and Caper Salsa; Herbed Lamb Chops with Homemade BBQ Sauce; Crispy Chicken with Rosemary-Lemon Salt; Turkey and Pancetta Pot Pies; Salmon Cakes with Lemon-Caper Yogurt Sauce; Broiled Tilapia with Mustard-Chive Sauce
–CHANGE OF PACE: Sweet and Spicy Greek Meatballs; Thai Turkey Lettuce Wraps; Asian Quinoa with Salmon; Black Forbidden Rice with Shrimp, Peaches, and Snap Peas; Chicken with Peruvian Chile Sauce; Tofu with Miso Vinaigrette, Mushrooms, and Edamame; Tilapia Fish Tacos with Arugula
–BREAKFAST FOR DINNER: Breakfast Tart with Pancetta and Green Onions; Almond Pancakes; Peach and Cherry Frittata; Fig and Brie Panini; Crepes with Peanut Butter and Jam; Crispy Breakfast Pita; Savory Polenta with Sausage and Dried Cranberries; Smoked Salmon Crostata
–DESSERTS: Oatmeal, Cranberry, and Chocolate Chunk Cookies; Mini Pumpkin Cupcakes with Chocolate Frosting; Chocolate Mascarpone Pound Cake; Apricot Oat Bars; Gingerbread Affogato
Providing an intimate sneak peek into Giada's day-to-day family life with Todd and Jade, and chock-full of gorgeous color photographs, WEEKNIGHTS WITH GIADA will be a new favorite for longtime fans—and a new kind of handbook for home cooks everywhere.
# # #
GIADA DE LAURENTIIS is the star of Food Network's Everyday Italian and Giada at Home, a judge on Food Network Star, a contributing correspondent for NBC's Today show, and the author of five New York Times bestselling cookbooks. She attended the Cordon Bleu in Paris and worked at Wolfgang Puck's Spago restaurant in Los Angeles before starting her own catering company, GDL Foods. Born in Rome, Giada grew up in Los Angeles, where she now lives with her husband, Todd, and their daughter, Jade. Visit her at www.giadadelaurentiis.com.
Related Posts:
You Might Also Like