Press Releases
WEAPONS OF MATH DESTRUCTION by Cathy O'Neil
How Big Data Increases Inequality and Threatens Democracy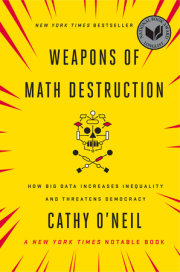 Cathy O'Neil
Imprint: Crown
On sale: September 6, 2016
Price: $26.00
Pages: 272
ISBN: 9780553418811
Contact:
Liz Esman
212-572-6049
lesman@penguinrandomhouse.com
A New York Times Book Review Notable Book of 2016
A Boston Globe Best Book of 2016
A Kirkus Reviews Best Book of 2016
An On Point Best Book of 2016
New York Times Editor's Choice
A Maclean's Bestseller
Winner of the 2016 SLA-NY PrivCo Spotlight Award
Longlisted for the National Book Award
---
Praise for Weapons of Math Destruction
"O'Neil's book offers a frightening look at how algorithms are increasingly regulating people… Her knowledge of the power and risks of mathematical models, coupled with a gift for analogy, makes her one of the most valuable observers of the continuing weaponization of big data… [She] does a masterly job explaining the pervasiveness and risks of the algorithms that regulate our lives."
—New York Times Book Review
"Weapons of Math Destruction is the Big Data story Silicon Valley proponents won't tell… [It] pithily exposes flaws in how information is used to assess everything from creditworthiness to policing tactics… A thought-provoking read for anyone inclined to believe that data doesn't lie."
—Reuters
"This is a manual for the 21st-century citizen, and it succeeds where other big data accounts have failed—it is accessible, refreshingly critical and feels relevant and urgent."
—Financial Times
"Insightful and disturbing."
—New York Review of Books
"Weapons of Math Destruction is an urgent critique of… the rampant misuse of math in nearly every aspect of our lives."
—Boston Globe
"A fascinating and deeply disturbing book."
—Yuval Noah Harari, author of Sapiens; The Guardian's Best Books of 2016
"Illuminating… [O'Neil] makes a convincing case that this reliance on algorithms has gone too far."
—The Atlantic
"If you've ever suspected there was something baleful about our deep trust in data, but lacked the mathematical skills to figure out exactly what it was, this is the book for you."
—Salon
---
DATA SCIENTIST CATHY O'NEIL, A FORMER WALL STREET QUANT, HARVARD PH.D., AND SLATE MONEY PODCASTER, SOUNDS THE ALARM ON THE MATHEMATICAL MODELS THAT PERVADE MODERN LIFE—AND THREATEN TO RIP APART OUR SOCIAL FABRIC.
We live in the age of the algorithm. Increasingly, the decisions that affect our lives—where we go to school, whether or not we get a job or a car loan, how much we pay for health insurance—are being made not by humans, but by mathematical models. In theory, this should lead to greater fairness: everyone is judged according to the same rules, and bias is eliminated. But as former Wall Street quant Cathy O'Neil shows in her revealing book, WEAPONS OF MATH DESTRUCTION: How Big Data Increases Inequality and Threatens Democracy (Crown; on sale September 6, 2016), the opposite is true.
O'Neil received her Ph.D. in mathematics from Harvard University and, after a brief stint in academia, landed a position as a quant on Wall Street. But when she realized that the hedge fund she was working for was betting against people's retirement funds, she became deeply disillusioned. Math was being used in a way she felt was immoral. She left Wall Street and became an organizer and facilitator in the Occupy Movement, bringing their message to audiences from NPR's Morning Edition to the WGA "Best Documentary" award-winning Frontline episode called "Money, Power, and Wall Street." She then became a data scientist for a New York start-up. Now she is an evangelist for the cause that is at the heart of her book.
WEAPONS OF MATH DESTRUCTION traces the arc of a person's life, from school to retirement, and looks at models that score teachers and students, sort résumés, grant (or deny) loans, evaluate workers, target voters, set parole and prison sentences, and monitor our health. The models being used are opaque, unregulated, and uncontestable, even when they're wrong. Most troubling, they reinforce discrimination: if a poor student can't get a loan because a lending model deems him too risky (by virtue of his race or neighborhood), he's then cut off from the kind of education that could pull him out of poverty, and a vicious spiral ensues. O'Neil has dubbed these harmful models Weapons of Math Destruction, or WMDs. In our society, where money buys influence, WMD victims are nearly voiceless. These models are propping up the lucky and punishing the poor and oppressed, creating a toxic cocktail for democracy. But the poor are hardly the only victims of WMDs. They hit the middle class, too. Even the rich find themselves micro-targeted by political models.
In WEAPONS OF MATH DESTRUCTION, O'Neil not only exposes the many ways that mathematical models are determining our futures, but she also offers ideas for making models more transparent and using them to promote positive social change. She emphasizes the importance of demanding transparency, embedding better values into our algorithms, and creating big data models that follow our ethical lead. As she notes in her book, "We must come together to police these WMDs, to tame and disarm them. Math deserves much better than WMDs, and democracy does too." Part exposé, part polemic, and part call to action, WEAPONS OF MATH DESTRUCTION digs deep into the mathematical engines that are running the modern world, warning about the tyranny of software.
####
ABOUT THE AUTHOR: Cathy O'Neil is a data scientist and author of the blog mathbabe.org. She earned a Ph.D. in mathematics from Harvard and taught at Barnard College before moving to the private sector, where she worked for the hedge fund D. E. Shaw. She then worked as a data scientist at various start-ups, building models that predict people's purchases and clicks. O'Neil started the Lede Program in Data Journalism at Columbia and is the author of Doing Data Science. She appears weekly on the Slate Money podcast.
Related Posts:
You Might Also Like