Press Releases
The Warehouse by Rob Hart
A Novel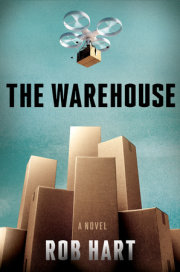 Rob Hart
Imprint: Crown
On sale: 8/20/2019
Price: $27.00
Pages: 368
ISBN: 9781984823793
Contact:
Sarah Breivogel
212-572-2722
sbreivogel@penguinrandomhouse.com
A TERRIFYINGLY PLAUSIBLE THRILLER SET IN NEAR-FUTURE AMERICA,WHERE BIG BUSINESS, RATHER THAN BIG BROTHER, CALLS THE SHOTS


*An Apple Best of the Month pick for August*
*Film rights sold to Ron Howard's Imagine Entertainment,
with Howard attached to direct*
*An August LibraryReads pick*
*Foreign rights sold in 20 + territories around the world*
Cloud isn't just a place to work. It's a place to live. And when you're here, you'll never want to leave. Cloud is the solution to every need.
In Rob Hart's brilliantly imagined, darkly satirical near-future thriller, THE WAREHOUSE (Crown, on sale August 20, 2019) readers are introduced to Cloud, a massive online retailer that bills itself as the savior a crumbling America desperately needs.
In a country reeling from the effects of climate change and mass unemployment, the company's extensive warehouses give much-needed jobs to millions—and its live-work facilities are models for a new environmentally sustainable way of living. Powered by the company's solar farms, these MotherClouds are crime-free, climate-controlled utopias, where workers live minutes from their jobs, not hours, and their every need is anticipated by Cloud's high-tech facilities.
Or at least that's the idea. The reality of life in the Cloud is a little less rosy, as two of the company's newest recruits are learning. For security guard Paxton, it's an ugly compromise—but one that means a shot at stability and a livable future in a world where such luxuries are in short supply. And for stock-picker Zinnia . . . well, she's got a different agenda. She's a corporate spy, infiltrating Cloud on a mission that could bring the company to its knees. And Paxton, with his all-access credentials, is her meal ticket. Finally, Zinnia must gamble everything on a scheme that risks both their lives, even as it forces Paxton to question everything about the existence he's accepted here.
THE WAREHOUSE is an issues-driven thriller, paying tribute to Hart's literary heroes, from Ray Bradbury and Margaret Atwood to George Orwell and Ursula K. Le Guin, whose stories examine social issues and warn us of dangers on the horizon. Says Hart, "The wage gap—in the United States and around the world—is cavernous and unconscionable, and it makes me angry. At the system, and at myself. I could give you stats and figures and anecdotes to try and make you as angry as I am, and that might work. A better option, in my mind, is to tell a story."
Hart's initial inspiration for THE WAREHOUSE came from a news story about minimum-wage worker Maria Fernandes, who suffocated to death in 2014 on gas fumes while sleeping in her car. Maria worked at three different Dunkin' Donuts locations, and it was often the only way she could rest between shifts. But even between working three jobs she struggled to pay $550 a month for a basement apartment. Dunkin' Brands's chief executive reportedly earned $10.2 million that same year. Fernandes's story struck Hart as a heartbreaking symbol of where our world is headed—of a country where poultry-processing workers wear diapers because they're denied bathroom breaks, fulfillment-center employees are forced to work through sickness and injury, and the "gig economy" strips workers of health insurance and job protection. The list goes on—Walmart employees requiring public assistance because they can't afford rent and groceries. Foxconn employees in Shenzhen threatening suicide to protest their treatment as they work to supply us with our latest gadgets.
With his novel, Hart wanted to examine not just where this system's taking us, but our own day-to-day complicity in creating it, the choices we all make—or are forced to make—that prioritize the conveniences of cheap consumerism and short-term security over our ideals. THE WAREHOUSE is an original science fiction thriller that spins the very real, present-day practices of big tech companies and old-economy behemoths into a corporate panopticon.
About the Author
Rob Hart is the author of the Ash McKenna crime series and the short-story collection Take-Out.
He also co-wrote Scott Free with James Patterson. His new novel, The Warehouse, coming from Crown in August 2019, has been sold in more than twenty countries and been optioned for film by Ron Howard. He's worked as a political reporter, the communications director for a politician, and a commissioner for the city of New York, is the former publisher at MysteriousPress.com and the current class director at LitReactor. He lives in Staten Island with his wife and daughter.
THE WAREHOUSE: A Novel
by Rob Hart
Crown • On-Sale: August 20, 2019 • Price: $27.00 • Pages: 368
ISBN 9781984823793
Also available as an ebook and on audio
Visit robwhart.com
You can find the author on Twitter @robwhart, and Facebook and Instagram @robwhart1
Related Posts: