Press Releases
Voting Rights, Corporate Cash, & the Conservative Assault on Democracy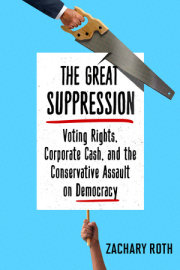 Zachary Roth
Imprint: Crown
On sale: 8/2/2016
Price: $26.00
Pages: 256
ISBN: 9781101905760
Contact:
Liz Esman
212-572-6049
lesman@penguinrandomhouse.com
"A blistering account of concerted Republican efforts to quiet the political voices of minorities, students, and the poor … Roth's succinct, well-written report examines disparate events and rulings of the past decade, arguing that conservative efforts to thwart the popular will have gone beyond partisan politics and are dismissive of the democratic process. … Solid reporting combined with engaging stories."
—Kirkus Reviews (starred review)
"[Roth's] book should be required reading for understanding the ultimate goals of American conservatism."
—Publishers Weekly
If the past few months have taught us anything, it's that elections matter. Yet thanks to the Supreme Court's ruling in Shelby County v. Holder, this November's presidential election will be the first in fifty years conducted without the full protections of the Voting Rights Act. But as MSNBC reporter Zachary Roth reveals in THE GREAT SUPPRESSION: Voting Rights, Corporate Cash, and the Conservative Assault on Democracy (Crown; August 2, 2016), the wave of new voting restrictions are just one part of a larger conservative movement working to undermine American democracy.
The Supreme Court has eviscerated campaign finance laws, boosting candidates backed by big money, while ruthless gerrymandering has given the GOP a long-term grip on Congress. The GOP may be on the point of a crackup, but it's moving in lockstep to limit the power of progressive voters.
In THE GREAT SUPPRESSION, Roth introduces us to:
• GOP officials pushing to make it harder to cast a ballot
• Conservative lawyers looking to scrap all limits on money in politics
• Corporate lobbyists working to ban local action on everything from the minimum wage to the environment.
• Libertarian scholars reclaiming judicial activism to roll back the New Deal
Traveling from Rust Belt cities to Southern towns, Roth shows how these efforts are hurting the most vulnerable Americans and preventing progress on pressing issues.
Digging deeper, Roth unearths the historical roots of this antiegalitarian worldview, dating back to Founding Fathers like John Adams and Alexander Hamilton who argued that the country would be better run if fewer people had input into the political process. And he shows that these campaigns aren't just schemes for partisan advantage. Instead, they reflect an alarming ideological divide: A growing number of Republicans distrust the very idea of democracy. For them, it's no longer a broadly shared value—it's a threat to their power, and a blueprint for chaos.
THE GREAT SUPPRESSION is a sharp, searing polemic in the tradition of Rachel Maddow's Drift and Matt Taibbi's The Divide. Zachary Roth presents an urgent wake-up call about a threat to our most cherished values, and a rousing argument for why we need democracy more than ever.
About the Author: Zachary Roth is a reporter for MSNBC. His work has appeared in The Atlantic, New Republic, Slate, Salon, The Guardian, The Daily Beast, and the Los Angeles Times, among other outlets. He was born and raised in London and lives with his family in Brooklyn.
THE GREAT SUPPRESSION: Voting Rights, Corporate Cash, and the Conservative Assault on Democracy
By Zachary Roth
Crown • On sale: August 2, 2016 • Price: $26.00 hardcover • 256 pages
ISBN 978-1-101-90576-0
Also available as an ebook
Visit crownpublishing.com