Press Releases
Virginia Morell's fascinating exploration of animal cognition, Animal Wise, now in paperback
A Kirkus Reviews Best Book of 2013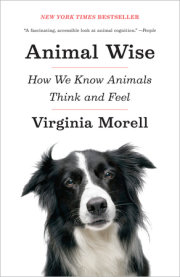 Virginia Morell
Imprint: Broadway Books
On sale: March 26, 2014
Price: $14.95
Pages: 304
ISBN: 9780307461452
Contact:
Rachel Rokicki
212-782-8455
rrokicki@randomhouse.com
An ALA Notable Book of the Year
A Scientific American Best Summer Science Book
"A fascinating, accessible look at animal cognition."
—People
"This charming book about animal intelligence…has a nice arc to its structure—working from generally more basic (although still remarkable) cognitive abilities of creatures like adventurous ants to the complex thinking of chimps—and it is threaded through with philosophical questions that are as thought-provoking as the creatures and experiments she chronicles."
 —Smithsonian magazine
 "For most of the 20th Century, animals weren't allowed to have emotions…But Virginia  Morell's new book,  Animal Wise, tells a new story. After six years of reporting in 11 different countries, the longtime science journalist is pretty certain: Animals feel. And strongly, as it turns out."
—Wired
"Touching and provocative… well-told and often heart-wrenching." 
—Washington Post
"Anyone who reads this book will be changed forever in their view of life on earth."
 —Richard E. Leakey, FRS, Stony Brook Professor of Anthropology and author of The Sixth Extinction
"After you read this book, you will be convinced that many different animal species have true thoughts and emotions.  You will take a journey to the center of the animal mind."
—Temple Grandin, author of Animals in Translation and Animals Make Us Human
"From chimpanzees playing computer games to amorous dolphins, Virginia Morell takes us on a lively tour of what we have learned about the emotions and intelligence of animals.  By inviting scientists to tell their personal side of the story, she not only brings the animals closer but also the thrill of discovery."
—Frans de Waal, author of The Age of Empathy
Have you ever wondered what it is like to be a fish? Or a parrot, dolphin, or elephant?  Do they experience thoughts that are similar to ours, or have feelings of grief and love? These are tough questions, but scientists are answering them. They know that ants teach, earthworms make decisions, and that rats love to be tickled. They've discovered that dogs have thousand-word vocabularies, that parrots and dolphins have names, and that birds practice their songs in their sleep. But how do scientists know these things? Animal Wise: The Thoughts and Emotions of Our Fellow Creatures by Virginia Morell (Crown; On-sale February 26, 2013) takes us on a dazzling, surprising, and enlightening odyssey into the minds and emotions of animals, through the unusual, curious, and committed researchers who study them.
With thirty years of experience covering the sciences, Morell, a prolific contributor to National Geographic, Discover, and Science, uses her formidable gifts as a storyteller to transport us to field sites and laboratories around the world, introducing us to pioneering animal-cognition researchers and their surprisingly intelligent and sensitive subjects.  Morell's is the first book of its kind to look at a range of animals—from the smallest insects to the largest mammals—and to ask the question how has evolution selected for the expression of intelligence and emotion?
Morell introduces us to Nigel Franks at England's University of Bristol and his research on how ants construct their colonies; Stefan Schuster, a neuroscientist at Germany's University of Bayreuth and his studies into the minds of fish; Irene Pepperberg and her lab work at Brandeis University focusing on bird cognition; Jaak Panksepp, professor of psychobiology at Washington State University, researching affective neuroscience and laughter in rats; Karen McComb, co-director of the Mammal Vocal Communication and Cognition Research Group focusing on the vocalizations of mammals; Diana Reiss, comparative psychologist and cognition researcher at Hunter College who specializes in mirror self-recognition in dolphins to determine whether an animal is self-aware; and other scientists studying wild parrots, chimpanzees, dogs, and wolves.   By bringing to life a huge body of work by animal-cognition researchers, Morell probes the moral and ethical dilemmas of recognizing that even "lesser animals"  have cognitive abilities such as  memory, feelings, personality, and self-awareness—traits that many in the twentieth century felt were unique to human beings.
In the tradition of the best science journalism, ANIMAL WISE brings cutting edge research into focus in a nuanced, deeply felt appreciation of the human-animal bond, and she shares her admiration for the men and women who have simultaneously chipped away at what we think makes us distinctive while offering a glimpse of where our own abilities come from.
ABOUT THE AUTHOR
Virginia Morell is a prolific contributor to National Geographic, Science, and Smithsonian, among other publications. She is also the author of Ancestral Passions, a New York Times Notable Book of the Year; Blue Nile; and co-author with Richard Leakey of Wildlife Wars.
Related Posts: