Press Releases
Viper Wine by Hermione Eyre
An 'ambitious, deliciously clever debut novel' - ELLE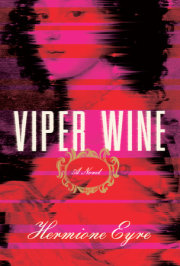 Hermione Eyre
Imprint: Hogarth
On sale: April 14, 2015
Price: $25.00
Pages: 432
ISBN: 9780553419351
Contact:
Rebecca Welbourn
212-782-9634
rwelbourn@penguinrandomhouse.com
Praise for Viper Wine                                               
"Eyre's confident debut novel expertly combines historical fact with modern-day invention. . . . an engrossing take on a timeless subject." —Publishers Weekly
"Fascinating . . . A fact-filled fiction that entertains and enlightens." —Library Journal
"Using an alchemy all of her own, Eyre's postmodern take on the seventeenth century renders it dazzlingly fresh and contemporary." —Guardian (UK)
"Viper Wine offers up a potent mixture of baroque intricacy and gothic horror. . . . The stylistic brio and technical invention on show here is truly impressive. . . . Eyre's poise and control make her easily the equal of most historical novelists, but it's her vision of worlds bleeding into worlds and her probing and pastiching of seventeenth-century style that are truly exciting. Viper Wine is an enormously impressive debut." —Telegraph (UK)
"Hermione Eyre pulls off a notable trick in Viper Wine, not just by reconstructing her chosen period but rendering it permeable to intrusions from other ages. . . . playful . . . a meticulously luscious fantasia on a theme of English high life in the 1630s . . . gorgeous." —Times Literary Supplement (UK)
"Exuberantly inventive and intelligent . . . sumptuous, strange, and startlingly original." —Mail on Sunday (UK)
"Playful, witty, and expansive . . . an exceptionally clever and exhilarating excursion through Caroline high society, filled with echoes and anticipations of our own times." —Sunday Times (UK)
"As an allegory of our ageing-obsessed generation, [Viper Wine] is hard to argue with." —Harper's Bazaar (UK)
"Eyre is a clever historian and a cunning writer of dialogue. She also understands what makes a fun, sexy read. . . . a wickedly funny parable of today's beauty industry . . . well-researched and completely mad . . . with moments of descriptive brilliance and breathtaking cleverness." —The Times (UK)
"[A] psychedelic trip of a novel . . . untiringly carnivalesque . . . Bold and wildly original, Viper Wine is an exuberantly witty play on the vanity and ghoulishness of the beauty industry, and a celebration of the unfading beauty of language. Eyre's impersonation of early Caroline prose has perfect pitch; her sentences hum and trill with pleasure, and her words are as plump and strange as moonfruit. Hermione Eyre has injected new youth into the historical novel." —London Evening Standard
"Eyre's manipulation of history is as funny as it is surreal."  —Financial Times (UK)
"No account of [Van Dyck] has perhaps been so convincing as that in Viper Wine . . . An intoxicating fantasy in which real-life characters are haunted by the future . . . evocative . . . As art history it's deeply unorthodox—but as a postmodern portrait of a trendsetting painter in the midst of a comeback, it seems both thrillingly and entertainingly right." —Independent (UK)
"A profoundly moving parable about the process of ageing, the quest for knowledge, and the nature of love . . . Eyre's voracious enthusiasm for eclectic, highly researched detail is persistently entertaining, breathing new life into the genre of the historical novel. A real tonic." —Country Life
"Viper Wine is a rich, raucous ride through seventeenth-century London, a city obsessed with power, revenge, and vanity." —Stylist Magazine
"Eyre has written a sumptuous, sensual tale of beauty and vanity; it's crying out for a TV adaptation." —Bookseller
"Magical realism meets a seventeenth-century Portrait of a Marriage. To say it is dazzling would be a puritan understatement."  —Tom Holland, author of Rubicon and Persian Fire
---
VIPER WINE (Hogarth; April 14, 2015), Hermione Eyre's remarkable debut novel,transports the reader to England in the early seventeenth century—but this England is like nothing you've read about before. Already published to rave reviews in the UK, VIPER WINE traces the story of infamous noblewoman (and real historical figure) Venetia Stanley and the lengths she'll go to in order to maintain her standing as one of the most attractive women at court. Written in a style akin to that of Baz Luhrmann's Romeo + Juliet or The Great Gatsby, and in a similar vein as novels by Hilary Mantel and Eleanor Catton, VIPER WINE offers an utterly distinctive, playful, and postmodern take on historical fiction.
Lady Venetia Stanley is a notorious beauty, a woman "more spoken of than seen, like a great sight of nature," who in her youth was mobbed with admirers wherever she went. Her husband, nobleman and adventurer Sir Kenelm Digby, loves her just as much as the day they met, despite Venetia's fears that his attraction to her is waning. They live in a society that prizes youth and beauty above all else, where social rankings fluctuate day by day with the dictates of vanity. It's a culture that will be instantly recognizable to anyone today. Venetia, convinced her looks are fading and desperate for a cure, turns to viper wine, a mysterious potion peddled by a morally dubious physician. The concoction is a mixture of animal waste, snakes, and opium, but the ingredients don't stop it from becoming an open secret at court. Venetia grows increasingly dependent on her weekly deliveries of viper wine, blind to the problems her addiction causes among her family and friends. By the time she realizes the full extent of its hold on her, it's too late.
Eyre's shrewd depiction of life at the court of King Charles I uncovers attitudes toward our physical appearances that still prevail today. In vibrant, stunning prose, Eyre richly recreates another era using real letters, paintings, memoirs, and other documents left behind by Kenelm and Venetia—alongside quotes from Naomi Campbell, Sylvia Plath, and Andy Warhol. VIPER WINE asks readers to take a closer look at whether our view of beauty has really progressed in the intervening four centuries, posing the same question that once tortured Venetia Stanley: If your identity was defined by your appearance, how far would you go to preserve it?
ABOUT THE AUTHOR: Hermione Eyre was born in London and studied at Oxford University. As a journalist she has interviewed Carey Mulligan, Juliette Binoche, Robert Pattinson, and Yo-Yo Ma, among others. She has contributed to such publications as The Times, The Independent, Financial Times, The London Evening Standard, Elle, and Harper's Bazaar. Viper Wine is her first novel.
Related Posts: