Press Releases
VB6: Eat Vegan Before 6:00 to Lose Weight and Restore Your Health…for Good
New York Times food writer Mark Bittman presents a food lover's vegan-flexible diet plan with 60 delicious recipes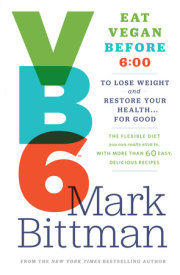 Mark Bittman
Imprint: Crown Illustrated/Clarkson Potter
On sale: April 30, 2013
Price: $26.00
Pages: 288
ISBN: 9780385344746
Contact:
Anna Mintz
(212) 572-6186
amintz@randomhouse.com
Taking the issues of health, diet, and weight loss head on for the first time, in VB6: Eat Vegan Before 6:00 to Lose Weight and Restore Your Health…for Good, bestselling author and New York Times columnist Mark Bittman presents a straightforward and sustainable way for both food lovers and the vegan-curious alike to lose weight and live a significantly healthier lifestyle without giving up dining out, favorite meals, or other aspects of pleasurable eating. Bittman's plan is simple and approachable: eat exclusively vegan meals for breakfast, lunch, and daytime snacks, and enjoy the foods you crave, with no restrictions, for dinner.
After receiving a distressing pre-diabetic, pre-heart-disease health diagnosis and a suggestion to go vegan from his doctor six years ago, Mark Bittman knew he had to make a major lifestyle change. Completely cutting out animal products was not a viable option for someone whose career revolves around food, so Bittman's solution was to eat a strict vegan diet (forgoing all animal products as well as any hyper-processed foods) for breakfast, lunch, and snacks; but after 6:00 p.m., he put the diet on hold—a compromise that offers the benefits of restraint without the hardship of perpetual denial. He called it "Vegan Before 6," or VB6, and the diet worked. After 30 days of eating this way, he'd lost 15 pounds. Four months later, he was down 35 pounds. Today, he has maintained the weight loss and has kept his cholesterol and blood sugar levels firmly in the normal range.
Marrying Bittman's food politics with effective weight-loss strategy, VB6 centers around six principles that show how even a partially vegan diet can dramatically improve your health. Unlike the SAD (Standard American Diet), when you eat lots of fruits and veggies while cutting back on meat and dairy and cook as much as possible at home, you automatically find yourself eating sensible portions and virtually no junk food—and losing weight effortlessly.
VB6 includes 60 delicious master recipes that put plants first, plus dozens of easy variations and quick ideas, so you can cook from this book for months without eating the same thing twice.
Sample recipes include:
BREAKFAST: Breakfast Pilaf, Sweet or Savory; Corny Hoecakes; Spiced Apple Jam with Toast; Scrambled Tofu with Spinach
LUNCH: Chickpea Ratatouille; Creamed Mushrooms on Toast; Black Bean Tacos with Tangy Cabbage; Eggplant Un-Parmesan; Baked Falafel with Tahini Sauce
SNACKS: Carrot Candy;, Roasted Vegetable Spread; Tofu Jerky; Vegan "Creamsicles"
DINNER: Baked Ziti with Vegetables and Cheese; Steel-Cut Oats, Risotto Style; Shrimp Tabbouleh; Succotash, Greens, and Sausage
All across America, interest in veganism is growing. More and more people are cutting down their meat consumption, adopting Meatless Mondays and going "flexitarian." The inventive recipes and easy-to-make lifestyle changes outlined in VB6 will appeal to both the vegan-curious and to food lovers simply looking to eat more sensibly. And best of all, everyone will be able to do just that while eating as well as (or better than) ever before.
ABOUT THE AUTHOR:
MARK BITTMAN is one of the country's best-known, most widely respected food writers. His How to Cook Everything books, with one million copies in print, are a mainstay of the modern kitchen. Bittman writes for the Opinion section of the New York Times on food policy and cooking and is a columnist for the New York Times Magazine. His "The Minimalist" cooking show, based on his popular NYT column, can be seen on the Cooking Channel. He is also the author of Food Matters, Food Matters Cookbook, Fish, and Leafy Greens.
Related Posts:
You Might Also Like