Press Releases
Updated Jewish comfort food from the owners of the hip Mile End Delicatessen in Brooklyn, New York
The Mile End Cookbook: Redefining Jewish Comfort Food From Hash to Hamantaschen By Noah and Rae Bernamoff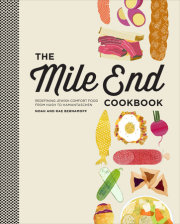 Noah and Rae Bernamoff
Imprint: Clarkson Potter
On sale: September 4, 2012
Price: $27.50
Pages: 224
ISBN: 9780307954480
Contact:
Erica Gelbard
212-572-6182
egelbard@randomhouse.com
When Noah and Rae Bernamoff opened Mile End Delicatessen in Brooklyn, NY, in January 2010, they had a very specific mission: to spread the gospel of good deli and share the classic Jewish comfort food of their childhood.
With their grandmothers' recipes as inspiration, Noah and Rae updated traditional dishes and elevated them by using fresh ingredients and from-scratch cooking techniques. THE MILE END COOKBOOK: Redefining Jewish Comfort Food from Hash to Hamantaschen (Clarkson Potter/Publishers; on sale September 4, 2012) is a comprehensive guide to the art of new Jewish cooking with more than 100 recipes and gorgeous photographs
Together in THE MILE END COOKBOOK, Noah and Rae share warm memories of cooking with their families and the traditions and holidays that spurred recipes like blintzes with seasonal fruit compote; veal schnitzel kicked up with pickled green tomatoes and preserved lemons; tsimis that is never mushy; and cinnamon buns made with challah dough.
For every occasion, mood, and meal, these are recipes that any home cook can make, including:
SMOKED AND CURED MEAT AND FISH: brisket, salami, turkey, lamb bacon, lox, mackerel
PICKLES, GARNISHES, FILLINGS, AND CONDIMENTS: sour pickles, pickled fennel, horseradish cream, sauerkraut, and soup mandel
SUMPTUOUS SWEETS AND BREADS: rugelach, jelly-filled doughnuts, flourless chocolate cake, honey cake, cheesecake, challah, rye
ALL THE CLASSICS: the ultimate chicken soup, gefilte fish, corned beef sandwich, latkes, knishes
With tips and lore from Jewish and culinary mavens, such as Joan Nathan and Niki Russ Federman of Russ & Daughters, plus holiday menus, Jewish cooking has never been so inspiring.
ABOUT THE AUTHORS
 NOAH AND RAE BERNAMOFF opened Brooklyn's Mile End Delicatessen in 2010. The New York Times dubbed it "a loving tribute to the deli tradition," and Zagat and New York magazine voted it New York's best deli. Originally from Montreal and New York, respectively, Noah and Rae now live in Park Slope. Visit them at mileenddeli.com.
You Might Also Like