Press Releases
Unleash your creative potential with Creative Confidence
with the help of Tom Kelley and David Kelley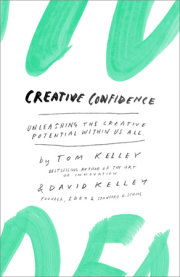 Tom Kelley, David Kelley
Imprint: Crown Business
On sale: October 15, 2013
Price: $28.00
Pages: 304
ISBN: 9780385349369
Contact:
Tara Gilbride
212-572-2872
tgilbride@randomhouse.com
You might not think of yourself as a "creative type" and you might not be in a creative profession, but unlocking your creative capacity is essential to fulfilling your potential.
For three decades at the helm of the iconic design firm IDEO, brothers David Kelley and Tom Kelley have helped thousands of people gain confidence in their creative abilities. Their firm designed the first mouse for Apple and the first laptop, and has won more awards than any other design firm for innovations that have transformed business, government, and healthcare.
In CREATIVE CONFIDENCE: Unleashing the Creative Potential Within Us All, the Kelley brothers show how you can develop and apply "creative confidence":  the self assurance that you can create change around you and come up with breakthrough ideas.
The authors address these and many other questions in an entertaining and inspiring narrative that draws on countless stories of famous creatives like Paul McCartney, Francis Ford Coppola and Steve Jobs, and ordinary people who fulfilled their creative promise:
A school teacher who engaged her students by teaching projects instead of subjects.
An army captain who rallied 1700 people to petition for a pedestrian mall.
A WNYC radio editor who designed an app in 24 hours to ease his mom's bus commute.
David's own story of cancer and how creative collaboration with Tom helped him cope.
Each of these innovators consciously decided to be creative and found their own unique path to creative confidence. Scores of other stories like these will inspire you to find creative solutions to your daily challenges at work, plan an unforgettable dinner party, surprise your loved ones with one-of-a-kind gifts, start a cause, or create your own million-dollar app.
You'll learn to tap your creative capacity from such unexpected sources as juggling, video games, and touching a snake. And to put your ideas into action you'll find tools and exercises including mindmaps to chart your idea flow, empathy maps to record inspiring observations, ideation speed dating to get creative juices flowing in a group, and karaoke secrets for building confidence.
"If you can unleash the creative talent that you have carried around inside you since childhood…" write the authors, "If you can build a few skills and learn a few techniques for applying that creativity…If you can find the courage to speak up and experiment, to risk failure and act on your creative impulse… you might discover, to paraphrase Noel Coward, that work can be more fun than fun."
With creative confidence, you won't just learn. You'll discover how you can make an impact on the world around you.
Related Posts: