Press Releases
With uncomplicated French recipes, gorgeous photography, and an utterly charming voice, Manger blogger Mimi Thorisson's debut cookbook will inspire home cooks and transport readers directly to the French countryside.
A Kitchen in France: A Year of Cooking in My Farmhouse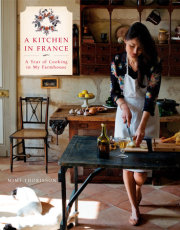 Mimi Thorisson
Imprint: Clarkson Potter
On sale: October 28, 2014
Price: $40.00
Pages: 304
ISBN: 9780804185592
Contact:
Anna Mintz
212-572-6186
amintz@penguinrandomhouse.com
When Mimi Thorisson and her husband moved with their small children from Paris to a small town in out-of-the-way Médoc, she did not quite know what was in store for them, but there she found wonderful ingredients from local farmers and the neighboring woods and, best of all, time to cook. Based on her inspirational blog, Manger, A Kitchen in France: A Year of Cooking in My Farmhouse (Clarkson Potter/Publishers; $40.00; Hardcover; October 28, 2014) chronicles the family's seasonal meals and life in an old farmhouse, with sumptuous photographs by Mimi's husband, Oddur Thorisson, to bring her simple, elegant, and visually stunning recipes to life.
Organized by season, sample recipes featured in the book include:
SPRING: My Aunt Francine's Fava Bean Soup, Artichoke Soufflé, Roast Chicken with Crème Fraîche and Herbs, Sugared-Almond Tart
SUMMER: Tomato Salad with Parsley and Shallots, Bouillabaisse, Duck Breasts Grilled over Grape Vines, Cherry Clafoutis
AUTUMN: Pumpkin Soup, Slow-Cooked Lamb with Croquant Ratatouille, Butternut Gratin, Calvados and Crème Fraîche Apple Tart
WINTER: Eggs en Cocotte with Mushrooms, Coq au Vin, Roasted Sausages with Red Wine and Fennel, Madeleines with Pistachio Pots de Crème
While rooted in the classics, Mimi's recipes are not complicated. Her charming and encouraging voice makes French cooking feel effortless, and her food will inspire home cooks to use the best seasonal ingredients available, while transporting food lovers, Francophiles, and armchair travelers to southwest France.
#  #  #
ABOUT THE AUTHOR:
MIMI THORISSON is the author of Manger, a blog devoted to French cooking that was named Saveur's Best Regional Food Blog in April 2013. After a career in television and having lived in Hong-Kong, Singapore, London, Reykjavik, and Paris, she settled with her photographer husband, their five young children, her two older stepchildren, and the family's fourteen dogs in a farmhouse in Médoc. She is the star of the cooking shows La Table de Mimi and the upcoming Les Desserts de Mimi, both on Cuisine+ in France.
#  #  #
ADVANCE PRAISE FOR A KITCHEN IN FRANCE
"Equally enthralling as her recipes is Thorisson's seemingly effortless conjuring of a rustic dream life, often exquisitely illustrated by her husband's photography."
—Vogue
"Mimi Thorisson's picture-perfect life would almost be too idyllic to bear if she weren't so generous: This lovely home cook willingly shares culinary secrets in her popular blog of two and a half years, Manger, along with a host of classic French recipes in a brand-new cookbook, A Kitchen in France. She leads her life with enviable style, from mothering seven children and wrangling the family's fourteen dogs to elegantly serving up a cognac-infused coq au vin."
—InStyle
"You'll want to live in Mimi Thorisson's A Kitchen in France."
—SELF
"In this warm and inviting collection, Thorisson brings readers into her farmhouse in Médoc. . . .  [W]hile the appeal of this collection rests firmly on its recipes, the incredible photographs capture life in the French countryside. Sidebars on everything from dried grapevines and wine to garlic and visits to the butcher add little details that transport the reader to this bucolic, idyllic world where Thorisson is the perfect host."
—Publishers Weekly, starred review
"No slave to received wisdom, Thorisson has tinkered with [Médoc's] outstanding seasonal meats, vegetables, and fruits to generate a very personal sort of cuisine, which she now shares with her devotees."
—Booklist
Related Posts:
You Might Also Like