Press Releases
The Ultimate Fashion Bible CHEAP CHIC Is Back in Print!
40th Anniversary Edition -- With A New Foreword by Tim Gunn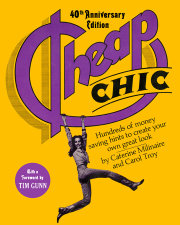 Caterine Milinaire & Carol Troy
Imprint: Three Rivers Press
On sale: 9/1/15
Price: $16.00
Pages: 224
ISBN: 9781101903421
Contact:
Rebecca Marsh
212-572-2544
rmarsh@penguinrandomhouse.com
With a new foreword by Tim Gunn and hundreds of timeless tips and tricks, the ultimate fashion bible CHEAP CHIC is back in print.
"I think it's terrific." –Diane von Furstenberg, of the original edition of Cheap Chic
Before there were street-style blogs and 'zines, there was CHEAP CHIC by Caterine Milinaire and Carol Troy. Originally published in 1975, this little book about personal style sold hundreds of thousands of copies in its first iteration and was an international hit. Decades later, it continues to inspire designers and attract fashion lovers, gaining a reputation as a cult classic.
Back in print and with a new foreword by Tim Gunn, the fortieth anniversary edition of CHEAP CHIC: Hundreds of Money-Saving Hints to Create Your Own Great Look (Three Rivers Press; Trade Paperback; $16.00; On Sale September 1, 2015) is both a fascinating fashion artifact and a timeless style guide. It was one of the first fashion books to show photographs of "street style" intermixed with couture.
Whether you're a lover of designer labels or a master thrifter, CHEAP CHIC is about cultivating your personal style on any budget. CHEAP CHIC covers all the basics, and provides advice for stocking up on must-have items such as T-shirts, denim, exercise gear, and one-of-a-kind couture pieces. There's a reason that classics – like a good pair of leather boots or a navy blazer – never go out of style, and CHEAP CHIC is proof of their staying power.
Astonishingly relevant forty years later, CHEAP CHIC provides great practical advice for creating an affordable, personal wardrobe strategy: what to buy, where to buy it, and how to put it all together to make your own distinctive fashion statement without going broke. It is the original fashion bible that proves you don't have to be wealthy to be stylish.
CHEAP CHIC also includes interviews with fashion icons like Diana Vreeland and Yves Saint Laurent, along with beautiful vintage photos of stylish celebrities from Greta Garbo to James Dean to Cher. The model on the cover, swinging from the logo designed by Bea Feitler, is Jerry Hall.
CHEAP CHIC provides excellent tips on thrifting, layering, and more – readers will even learn how to make a bikini or tie a headscarf properly. Packed with style ideas, shopping tips, and ways to develop your unique look, CHEAP CHIC is a go-to for fashion inspiration.
About the Authors
Caterine Milinaire is a journalist and photographer who has been an editor at Vogue; worked with Andy Warhol, Richard Avedon, and Diana Vreeland; and was at New York magazine and Interview at their starts.
Carol Troy is a journalist and photographer whose work has appeared in Conde Nast Traveler, Vanity Fair, and The New York Times. She was also an editor at Rags and Oui, where she collaborated with Helmut Newton. She lives in Napa Valley.  
Related Posts: