Press Releases
The ultimate academic career guide—THE PROFESSOR IS IN
The Essential Guide to Turning Your Ph.D. into a Job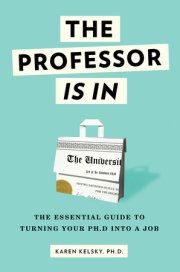 Karen Kelsky
Imprint: Three Rivers Press
On sale: August 4, 2015
Price: $15.00
Pages: 448
ISBN: 9780553419429
Contact:
Allison Judd
212-782-9164
ajudd@penguinrandomhouse.com

Praise for The Professor Is In
"Kelsky offers smart, frank, and often witty advice to lead applicants through the complicated process of securing a tenure-track position . . . this cogent, illuminating book will be indispensable."
—Kirkus Reviews
"Kelsky offers wide-ranging, valuable advice and an important perspective for job seekers." —Booklist
"If you would like your academic career to begin in delusion and end in disillusionment, then by all means, ignore Karen Kelsky. If, however, you want unvarnished straight talk about the academic job market—and how to navigate it—then heed her, and heed her now."
—Rebecca Schuman, education columnist for Slate
Each year, after decades of hard work and hundreds of thousands of dollars of investment, graduate students earn their Ph.D.s only to face an academic job market that has collapsed, and few prospects beyond a "career" as an underpaid and overworked adjunct. Many simply give up in frustration. Those few who do make it through to Ph.D. employment share an important asset that separates them from the pack: They have a plan.
THE PROFESSOR IS IN: The Essential Guide to Turning Your Ph.D. into a Job (Three Rivers Press; Trade Paperback Original; On Sale August 4, 2015) by Karen Kelsky is here to help recent Ph.D.s create that plan.
Kelsky is the creator of the popular website TheProfessorIsIn.com, which demystifies the tenure-track job search. With fifteen years experience as a tenured professor and department head at two major research institutions, Kelsky delivers frank and unvarnished advice for getting out of graduate school with minimal debt and maximum chance of hacking the academic job market, and also seeking nonacademic jobs, writing grants, and staying out of debt.
THE PROFESSOR IS IN covers such topics as:
• Creating a five-year plan to finish with a job offer
• What to publish and when
• The "rules" of short-listable cover letters and CVs
• Rocking the academic interview
• Making the leap to nonacademic work
THE PROFESSOR IS IN teaches current and future Ph.D. job seekers to understand how the job market works, make informed choices about their careers, and protect their financial security and mental health.
###
ABOUT THE AUTHOR
KAREN KELSKY, a former tenured professor and department head at two major research institutions, has run The Professor Is In blog and business since 2010, and is today the most widely recognized expert in the highly engaged world of Ph.D.s confronting the academic job market.
Related Posts: