Press Releases
Two's Company by Suzanne Somers
A Fifty-Year Romance with Lessons Learned in Love, Life & Business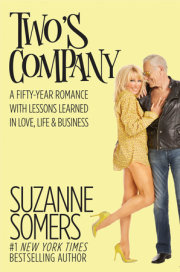 Suzanne Somers
Imprint: Harmony Books
On sale: November 14, 2017
Price: $26.00
Pages: 304
ISBN: 9780451498267
Contact:
Tammy Blake
212-572-2542
TBlake@penguinrandomhouse.com
"Authentic and real: a love story that is inspirational and filled with helpful insights that can help us all find true and lasting love." —John Gray, author of Men Are from Mars, Women Are from Venus
TWO'S COMPANY
A Fifty-Year Romance with Lessons Learned
in Love, Life & Business
by Suzanne Somers
In her most personal and inspiring book yet, #1 New York Times bestselling author Suzanne Somers shows how to shape a healthy, lasting relationship through the lens of her 50-year love affair with her husband, Alan Hamel. Exposing the inner workings of her marriage, Suzanne writes, "We have what everyone wants; the combination for a great love lock." It's what she calls the "figure 8" of their relationship: a winning combination of love, business, and family—and great sex.
Intimate, funny, candid, and insightful—Suzanne shares it all in TWO'S COMPANY: A Fifty-Year Romance with Lessons Learned in Love, Life & Business (Harmony; November 14, 2017; $26.00).
Beginning when a big-city guy from Toronto met a small-town girl from San Bruno, California, that unique "figure 8" blossomed when Suzanne was fired from TV's #1 show Three's Company for asking to be paid commensurately with men who were making 10 to 15 times her salary on lower-rated shows. Her contract had ended and as is normal in TV, it was time to renegotiate. Unbeknownst to Suzanne, the network decided to use her as the example so no other woman in TV would dare try for parity. The thinking was if the #1 female star could be fired, it would scare all the other women from doing likewise. As a result Suzanne and Alan decided to take control of her brand as one of the most popular female personalities and work only for themselves.
Building on the adoration she inspired among her fans, they turned her momentum into a major
enterprise, expanding from her books and television into Las Vegas headliner shows, a one-woman Broadway musical, international speaking engagements, beauty and health products, fitness, and fashion.
Suzanne reflects on her groundbreaking success as a TV star and Las Vegas Entertainer of the Year, author of 14 New York Times bestsellers, and successful entrepreneur, and on overcoming the shadow of an alcoholic father to become a mother, partner, and ultimately self-fulfilled woman. Through fame, fortune, shattering sickness, and blended families, Suzanne and Alan have kept the vitality of their marriage alive—together 24/7 with not one night apart in 37 years, and combining individual business strengths in their evolving, loving relationship.
Suzanne reveals hard-won advice on turning negatives into positives and relying on another person without sacrificing individuality, among many other intriguing stories:
Her brother installing a lock on the inside of an upstairs closet, so the family could hide on nights when her alcoholic father was especially violent
On seeing her play Adelaide in a high school production of Guys and Dolls, Walter Winchell—the New York columnist on whom Damon Runyon had based one of his characters—saying, "You're goin' someplace, sister."
Leaving home as a teenage mother, and the horrific near-death car accident involving her son, Bruce, when he was five years old
Lacking the 50-cent bridge toll en route to an audition and giving the toll-taker a lipstick as collateral. The part? The mysterious blonde in the Thunderbird in American Graffiti
A chance meeting with Johnny Carson in the NBC commissary that led to Three's Company
Her portrayal of Chrissy Snow that was greatly inspired by her mom, a pretty, quiet, sweet Irish woman
Her gutsy, ballsy creative move to land a high-powered publicist
Landing a Vegas deal better than the one that got her fired from Three's Company
Working with Barry Manilow, Bob Hope, Paul Anka, Jerry Lewis, Sammy Davis Jr., Donna Summer, John Wayne, Red Skelton, and more; partying with Ringo Starr, Monaco royalty, and Rod Stewart
Her last conversation with John Ritter
The story behind the incredible success of the ThighMaster
Her breast cancer, and becoming the first patient in the United States to undergo cell-assisted lipotransfer (CAL) in breast reconstruction, after spearheading the clinical trial
The home inferno they escaped, and kindness from stars and strangers that helped them rebuild
Her suspicious poisoning with succinylcholine, a drug ABC News called "a perfect murder weapon"
Creating one of the world's most trusted business brands, and more
Suzanne's narrative is spiced throughout with Alan's takes on events and feelings, as well as her meaningful "What I Know Now" insights—her personal life lessons that are uplifting and transformative. TWO'S COMPANY also features 70 captivating black-and-white and full-color images from Suzanne's personal scrapbooks, including favorite moments with Alan, family, and celebrity friends, as well as highlights from throughout her career.
As always, Suzanne Somers tells it like it is. In TWO'S COMPANY, an empowering and entertaining love story, memoir, and motivational guide, readers, too, will discover how to forge and maintain a true partnership that's built to last.
Related Posts:
You Might Also Like