Press Releases
The Tsar of Love and Techno by Anthony Marra
*National Indie Bestseller* *NPR's First Read*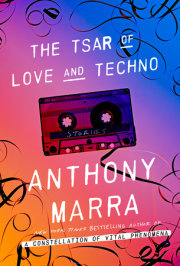 On sale: 10/6/2015
Price: $25
Pages: 352
ISBN: 9780770436438
Contact:
Rachel Rokicki
212-782-8455
rrokicki@penguinrandomhouse.com
    From the author of National Book Award longlist selection and New York Times bestseller A Constellation of Vital Phenomena come these dazzling, poignant, and lyrical interwoven stories about family, sacrifice, the legacy of war, and the
redemptive power of art.
Praise for THE TSAR OF LOVE AND TECHNO
"[E]xtraordinary… Each story is a gem in itself. But the book is greater than its parts, an almost unbearably moving exploration of the importance of love, the pull of family, the uses and misuses of history, and the need to reclaim the past by understanding who you really are and what really happened…He starts this miracle of a book by showing us how a system can erase the past, the truth, even its citizens. He ends by demonstrating, through his courageous, flawed, deeply human characters, how individual people can restore the things that have been taken away. And if you've been worrying that you've lost your faith in the emotionally transformative power of fiction – Mr. Marra will restore that, too."
—The New York Times, Sarah Lyall
"Audacious…brilliant…nearly Tolstoyan. [Tsar is] ambitious and fearless, one that offers so much to enjoy and admire. At a time when a lot of fiction by young American writers veers toward familiar settings and safe formal choices, Marra's far-ranging, risky and explicitly political book marks him as a writer with an original, even singular sensibility."
—The New York Times Book Review, Alex Halberstadt
"It's a tour de force that only confirms the sound judgment of the National Book Critics Circle in awarding Marra's novel its inaugural John Leonard Prize for the best first work of the year. Like a contemporary Chekhov, one would be content if Marra continued to mine the subject matter that has engaged him so strikingly in these unforgettable tales. Whether he does, or moves on to other material, he'll assuredly remain one of our most distinctive and talented young writers."
—Bookreporter
"[A] remarkable collection…It's as if we're being introduced to an extended family, meeting distant relatives for whom we hope things will turn out well, even as we know that such hopes are unlikely to be fulfilled. Marra is a gifted writer with the energy and the ambition to explore the lives of characters whose experiences and whose psyches might seem, until we read his work, so distant from our own. Reading his work is like watching the restoration—the reappearance, on the page—of those whom history has erased."
— Francine Prose, The Washington Post
"Private acts of dissidence (a smuggled mix tape, say) become heroic in Anthony Marra's era-spanning portrait of the USSR."
—Megan O'Grady, Vogue
"Love and betrayal reverberate through these nine deftly linked stories…With this collection, Marra has created a stunning portrait of a place and its indelible inhabitants."
—Dawn Raffel, More
"The Tsar of Love and Techno is inventively structured, emotionally resonant, superbly rendered."
—Jane Ciabattari, BBC.com
"We know we are in the realm of fiction, but Marra makes it all feel viscerally real. He has mined modern Russian history for all it is worth to create a masterful novel."
—Russian Life Magazine
"Treat yourself to these wise works of art set in Siberia, the USSR, and the heart."
—Refinery29
"Powerful…strikingly reimagines a nearly a century of changes in Russia…The book's brilliance and humor are laced with the somber feeling that the country is allergic to evolution."
—Kirkus Reviews (starred)
 "As in his acclaimed novel, Marra finds in Chechnya an inspiration for his uniquely funny, tragic, bizarre, and memorable fiction."
—Publishers Weekly (starred)
"With generosity of spirit and a surprising dash of humor, these artfully woven narratives coalesce into a majestic whole."
—Library Journal (starred)
"Marra, in between bursts of acidic humor, summons the terror, polluted landscapes, and diminished hopes of generations of Russians in a tragic and haunting collection."
—Booklist (starred) 
"Treat yourself to these wise works of art set in Siberia, the USSR, and the heart."
—Refinery29
"[A] dazzling set of linked stories set in Russia, Chechnya, and Siberia over a period of time spanning from the Russian Revolution to the modern day and beyond. As with his debut novel, what I love are the characters that he makes readers care so deeply about, as well as the fact that I constantly found myself wanting to know more about their lives and the history of their countries. Get on the Marra train now because one thing is certain: He is one of our brightest young talents writing today."
—Cody Morrison, Square Books, Oxford, MS
"I just finished reading The Tsar of Love and Techno yesterday. Because of Constellation, I expected it to be good, but I was still blown away. It's impossibly good. It's smart, funny, poignant, and compassionate, the way that Tony's linked the individual stories is genius."
—Mark LaFramboise, Politics and Prose, Washington, DC
"This book of interconnected stories left me breathless. Set in various time periods from 1937 to 2013, from the beauty of Leningrad/St. Petersburg, to the tainted polluted nickel mines of Kirovsk, Siberia, and the crumbled war torn city of Grozny, Chechnya, Anthony Marra weaves together the lives of several generations, many of whom didn't know of the others' existence but all of whom mattered in some critical way to each others' lives. We meet a Russian portrait artist and censor, a Siberian beauty queen, a young Russian soldier sent to the battlefields of Chechnya, and many others, all of them propelled along the trajectory of their lives with very little control or choice, multitudes of sorrow, and small and private joys. It is a sobering read, colored in the whites and grays of gloom and sadness. And yet, it sparkles with life, reflected in a Zakharov painting of a Chechnyan hillside. This is the best book I've read this year."
—Kelly Currie, Delphi Public Library, Delphi, IN
"In Tsar of Love and Techno, Anthony Marra writes a small flame of humanity into the lives of a people crushed by repression. A series of braided short stories, Tsar of Love and Techno time travels through Soviet Russia's grip on Eurasia, twisting a knot of a novel around the lives of brothers and lovers, fathers and sons, girls and old women. The stories are rife with small freedoms, of the small writ large, of the thin veil between truth and what we believe. Rebellion is swimming in a toxic lake, planting a garden, destroying a photograph. And to live and die is the same. Marra's seamless prose and dream-like images make Tsar of Love and Techno a masterful second book and a pleasure to read."
—Adie Smith, Lemuria Books, Jackson, MS
"I put off reading this book for a long time. I was such a fan of Marra's debut novel, The Constellation of Vital Phenomena, and thought there is no way this new title would be able stand up to it. But stand up it did, in fact, it blew me away. This collection of interconnected stories has the heft and feel of a novel. I feel lucky to have been exposed to a writer so young and talented."
—Shawn Donley, Powell's Books, Portland, OR
"Marra's newest novel in short stories is every bit as brilliant as his Constellation of Vital Phenomena. The nine interrelated stories take place over an extended period of time, from 1937 to 2013, and the characters' experiences reflect some of the grimmer aspects of Russian history during that time period. The action takes place in several places: Kirovsk, a Siberian town north of the Arctic Circle, where Russians have been resettled to work in the nickel mines; Chechnya, where Russian soldiers are fighting Chechen rebels; and Leningrad/St. Petersburg…I cannot recommend this book highly enough. Fans of Constellation of Vital Phenomena you are in for another treat."
—Alice Meloy, Blue Willow Bookshop, Houston, TX
___________________________________________________________________________________________________________________________________________
Brilliantly constructed and beautifully inhabited, Anthony Marra's new book, THE TSAR OF LOVE AND TECHNO (Hogarth; on sale October 6, 2015), is an exquisite collection of nine interconnected stories set in Russia that move across a century and introduce us to a cast of unforgettable characters whose lives intersect in ways both life-affirming and heartbreaking. Marra is a writer driven by a deep and authentic curiosity, and it was that curiosity that led him to write about Chechnya and to return there in THE TSAR OF LOVE AND TECHNO. With the recent insurgent attacks in Grozny, the Islamic State's announcement that Chechnya will be their next zone of expansion, and 2015 marking the twentieth anniversary of the first Chechen War, Marra's book couldn't be timelier.
THE TSAR OF LOVE AND TECHNO is similarly infused with the force that animated Marra's debut novel, A Constellation of Vital Phenomena—a New York Times bestseller in both hardcover and paperback and winner of prominent awards; it also appeared on more than twenty year-end lists (see attached praise). Abroad, the novel has also received acclaim—winning the Berlin Prize in Germany, the Grand Prix des Lectrices de Elle in France, and in Greece it became the first English-language novel to receive the Athens Prize for Literature.
In addition, Marra has been awarded a Guggenheim Foundation fellowship and was recently chosen by a jury selection of critics for a writing residency at Literaturhaus Basel in Switzerland, which invites only four international writers per year. Furthermore, as part of the Berlin Prize he will take up residency at the American Academy in Berlin this fall, which in years past has featured Paul Krugman, Jonathan Safran Foer, Jonathan Lethem, and Dexter Filkins, among others. Marra also has plans to travel to Chechnya with photographer Diana Markosian on a fellowship from the Pulitzer Center for Crisis Reporting to collect Polaroids from the first Chechen War and then ask women to censor their images to conform with the current morality laws. Marra will report on the legacy of visual repression in Chechnya.
The collection in THE TSAR OF LOVE AND TECHNO begins in 1930s Leningrad, in a hidden room at the end of a metro tunnel, where a failed portrait artist named Roman Markin is tasked by Soviet censors to erase political dissenters from official images and artworks, beginning with his brother. Images of Stalin's enemies were illegal, and as a result had to be destroyed, censored, or erased; this was one of the first uses of the airbrush, and who more qualified to erase a face than a failed portrait artist. One day, Roman receives an antique painting of a dacha inside a box of images meant to be censored, and the mystery behind it leads him to draw small portraits of his brother inside every picture he censors. The consequences of this decision reverberate throughout the century in each of the collection's stories, threading together a wide cast of mesmerizing characters all connected through this painting, which depicts an ordinary dacha in a pastoral landscape.
We meet Nadya, the conservator, who restores this painting in the 1990s and discovers the insertion of a single boy in all of Roman's censored work. There is Ruslan, the curator of a Chechen art museum, who goes to great lengths to save the painting from the war because the dacha it portrays is the last place he saw his wife. There is Roman's nephew Vladimir, a retired gangster, who is haunted by the role he played in Roman's arrest, and by the fact that he has never seen his father's face. There is Galina, the granddaughter of a famous prima ballerina, who buys the painting after her boyfriend disappears while crossing the landscape depicted in the painting. There is the chorus of women who recount their stories and those of their grandmothers, and the former gulag prisoners who settled their Siberian mining town. There is a young man who is held hostage in a well beside the dacha with a mix tape that holds a final message from his family.
With a sense of history reverberating into the present, THE TSAR OF LOVE AND TECHNO has the scope and cohesiveness of a novel, reminiscent of works such as Jennifer Egan's A Visit from the Goon Squad or Colum McCann's Let the Great World Spin. Marra's characters sit in kitchens that feel like our kitchens; they struggle to protect and care for their families as we struggle to do the same; they strive and strike out and have hopes and dreams that mirror our own.
THE TSAR OF LOVE AND TECHNO is an intergenerational mystery; it's about the power of art to both transform and to coerce; and it reflects the ragged borderlands where family history and national history overlap. Like A Constellation of Vital Phenomena, its stories gradually entwine to make a sum larger than its parts. Marra is a deeply beautiful humanist, and in his effort to understand humanity we are on the lucky receiving end of this transcendent, universal, and profound book.
About the Author: ANTHONY MARRA is the author of A Constellation of Vital Phenomena (2013), which won the National Book Critics Circle's inaugural John Leonard Prize, the Anisfield-Wolf Book Award in fiction, and the Barnes and Noble Fiction Discover Award, and appeared on more than twenty year-end lists. Marra's novel was a National Book Award longlist selection, and abroad it won the Grand Prix des Lectrices de Elle in France and the Athens Prize for Literature in Greece. A Guggenheim Fellow and Whiting Award recipient, he lives in Oakland, California and teaches at Stanford University. Marra has reviewed and written for the New York Times, San Francisco Chronicle, Washington Post, Wall Street Journal, and The New Republic. Visit http://anthonymarra.net/.
Related Posts: