Press Releases
Try This at Home – the wildly creative debut cookbook from Bravo's Top Chef All-Stars winner, Richard Blais
Recipes from my head to your plate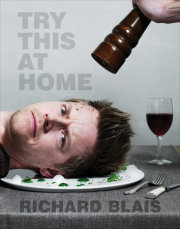 Richard Blais
Imprint: Clarkson Potter
On sale: February 26, 2013
Price: $30.00
Pages: 288
ISBN: 9780307985279
Contact:
Anna Mintz
(212) 572-6186
amintz@randomhouse.com
As fans of Top Chef know, Richard Blais's food is creative and surprising, but more than anything, it's delicious. In TRY THIS AT HOME: Recipes from My Head to Your Plate, his first cookbook, Richard reveals a simplified approach to adventurous cooking by sharing new flavor combinations and textures to reinvent home cooks' classic dishes.
To Richard the most thrilling aspect of cooking is making people happy. In TRY THIS AT HOME he shares 125 delicious and interesting recipes that are full of surprise and flavor and are sure to please any table of diners. Each recipe is straightforward enough to make at home, but for those who want to try using liquid nitrogen or a sous vide machine, he offers fun variations to his recipes that add another level of excitement in the kitchen.
Recipes include:
WAKING UP: Oatmeal Risotto, Cinnamon Brioche "French Toast" Skewers, Country-Fried Steak with Sausage-Milk Gravy
NEW CLASSICS + OLD-SCHOOL FAVORITES: Vidalia Onion Rings with Beer Mustard, English Muffin Pizzas, Pâté Melt
SNACKS, SIDES, SOUPS + SALADS: Newer England Clam Chowder, Charred Artichokes with Smoky Lemon Aioli, Pork-Belly-Stuffed Baked Potatoes
PASTAS + IMPASTAS: Pressure-Cooker Bolognese, Macaroni + Headcheese, Squid "Linguine with Shrimp
BIRDS IN HAND: Arroz con Pollo, Lemon-Curd-+-Black-Pepper-Roasted Chicken, Quail Potpie
FINS, SHELLS + SCALES: Crab Cakes with Brussels Sprouts Slaw, Barbecue Broiled Oysters with Chorizo + Green Apple, Prawns 'n' Polenta
MEAT: Grilled Rib Eye with Spiced Corn on the Cob, Salisbury Steak, Pan-Seared Spiced Pork Chops with Microwave Applesauce
SWEETNESS: Sticky Pudding with Scotch Sauce, Black-Olive Chocolate Cake, Parmesan Cheesecake with Dates + Almonds
For home cooks thrilled by the idea of putting a creative twist on classic meals, TRY THIS AT HOME is the accessible and fun debut cookbook from Bravo's Top Chef All-Stars winner Richard Blais, featuring the signature recipes, flavor combinations, and cooking techniques that have made him the celebrated and popular chef he is today.
Related Posts:
You Might Also Like