Press Releases
TRIM HEALTHY MAMA PLAN by Pearl Barrett & Serene Allison
The Easy-Does-It Approach to Vibrant Health & a Slim Waistline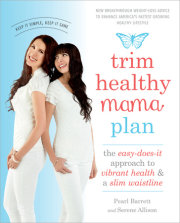 Pearl Barrett & Serene Allison
Imprint: Harmony Books
On sale: 9/15/15
Price: 19.99
Pages: 336
ISBN: 9781101902639
Contact:
Rebecca Marsh
212-572-2544
rmarsh@penguinrandomhouse.com
Based on the New York Times bestselling Trim Healthy Mama, TRIM HEALTHY MAMA PLAN is a simple, gimmick-free guide to help readers slim down, satisfy cravings, and boost energy.
Sisters Pearl Barrett and Serene Allison had tried every diet out there—vegetarian, vegan, raw food, low fat, high fat, low carb, high carb—when they decided to take matters into their own hands. They wanted a plan that was effective, sustainable, and fun, focused not on cutting out food groups, but on celebrating food. Together they created the Trim Healthy Mama movement, successfully self-publishing the popular Trim Healthy Mama book, which became a New York Times bestseller.
Now in the new TRIM HEALTHY MAMA PLAN: The Easy-Does-It Approach to Vibrant Health and a Slim Waistline (Harmony Books; $19.99; Trade Paperback Original; On Sale September 15, 2015), they present a refreshingly practical lifestyle program, designed to help readers become healthy, lose weight, and keep it off for good.
Pearl and Serene are sisters and stay-at-home moms, both with large boisterous families—eighteen children between the two of them! Needless to say, their lives can get a little chaotic. But the Trim Healthy Mama lifestyle is all about finding healthy eating habits that can fit into busy schedules. The Mamas' motto is "keep it simple, keep it sane," and they believe in food freedom. Why pitch a tent in just one dietary camp when you can build a dream home smack dab in the middle of all these theories and arguments? Discovering your trim and healthy self doesn't have to be difficult or painstaking; it can be a relaxing, enjoyable journey.
TRIM HEALTHY MAMA PLAN includes menu plans, a list of key superfoods, tips for saving time and stocking your pantry, and lifestyle advice to help readers successfully reach their goals. The highly effective approach includes:
Satisfying (S) meals: healthy fats, anchored in protein
Energizing (E) meals: healthy carbs, anchored in protein
Fuel Pulls: lighter foods to round out your plates and to make your S and E meals complete
Crossovers (XO): meals that merge the two fuels of fats and carbs
The Trim Healthy Mamas recommend whole, unprocessed foods, including fats, grains, proteins, fruits, and vegetables, eaten in a way that boosts metabolism—yet still fits into anyone's hectic lifestyle. Their plan is family-friendly and effective for pregnant women and nursing mothers, pre- or postmenopausal women, men and growing children, as well as individuals without health issues. It's also adjustable for those with allergies and dietary restrictions.
Join the Trim Healthy Mama movement and, along with thousands of others, discover the groundbreaking, easy-does-it, and delicious way to eat for health and weight loss.
###
 ABOUT THE AUTHORS
Pearl Barrett and Serene Allison are sisters who share a passion for healthy eating. They both have boisterous families and love to experiment in the kitchen on ways to best nourish their families and stay slim and healthy in the process. They were recording artists with a Christian music label and traveled extensively, but they relinquished their touring careers to embrace a life at home with children, dinners, dishes, and diapers. They have never looked back.
###
Also available from Harmony Books:
TRIM HEALTHY MAMA COOKBOOK
Eat Up and Slim Down with More Than 350 Healthy Recipes
By Pearl Barrett and Serene Allison
Harmony Books • On Sale September 15, 2015
Trade Paperback Original • $27.99 • 978-1-101-90266-0
With more than 350 recipes to help readers successfully reach their goals, this four-color companion cookbook to Trim Healthy Mama Plan features simple, delicious, and healthy breakfasts, lunches, dinners, snacks, and desserts. 
Related Posts:
You Might Also Like