Press Releases
Writer Brian Kevin follows in Hunter S. Thompson across South America
An adventure-filled and thought-provoking travelogue from an acclaimed young writer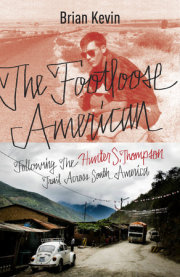 Brian Kevin
Imprint: Broadway Books
On sale: May 20, 2014
Price: $14.99
Pages: 384
ISBN: 9780770436377
Contact:
Abigail Grace Murdy
212-572-2247
amurdy@randomhouse.com
"Literally and literarily following in the footsteps of the young Thompson…Kevin is, like his model, an observant and witty writer…This is fine, historically well-researched travel writing in the tradition of Bruce Chatwin as well as in that of the youthful and restrained Thompson."
—Booklist
"Brian Kevin has written a marvelous travel romp following the Proud Highway of Hunter S. Thomson through Latin America. Kevin is a helluva good writer, and if the Gonzo King were alive, he would give The Footloose American a thumbs up."
—Douglas Brinkley, author of Cronkite, CBS News historian, and literary executor of Thompson's estate
"A refreshing addition to the library of books written with inspiration from Hunter…a thoughtfully documented look through the eyes of the present moment."
 —Anita Thompson, widow of Hunter S. Thompson
"Brian Kevin's journey through South America in the footsteps of gonzo journalist Hunter S. Thompson is a tour de force. He has brought back a wonderful kaleidoscope of unforgettable characters and keen insight, wrapped in frequent moments of hilarity. This is the work of a first-class writer from whom will we be hearing a lot more in the years ahead. I look forward to every page."
—Scott Wallace, author of The Unconquered: In Search of the Amazon's Last Uncontacted Tribes
"Is there a point to another 'in the footsteps' narrative? Emphatically yes. Brian Kevin's decision to follow the journey that created the perspective of one of the seminal writers of our time, Hunter S. Thompson, does more than offer a needed understanding of Thompson's origins. Kevin's journey through South America reconsiders what it means to be a journalist, a traveler, a gringo, and an American. Plus, it's a great travel narrative on its own."
 —Scott Huler, author of On the Grid and No-Man's Lands
"Brian Kevin has achieved a miraculous first with this brilliant travelogue that follows Hunter S. Thompson's journeys through South America shot into the prism of the modern travelers aesthetic. The vividness of Kevin's writing makes for great reading and his stories bring to life the immediacy and romantic allure of the Latin experience."
—Andrew Zimmern, creator of Bizarre Foods on the Travel Channel
"In this meticulously rendered quest, Brian Kevin reveals that before the screeching bats and blood-sucking lizards, Hunter S. Thompson was an earnest, quixotic—even innocent—young writer trying to learn how the world worked. The Footloose American illuminates how Thompson's sharp eye for truth, honed on the back roads and backrooms of South America, would soon fall on fissures in his own country as they cracked wide open in fear and loathing."
 —Mark Sundeen, author of The Man Who Quit Money
In 1963, a twenty-five-year-old Hunter S. Thompson, who would become America's bestselling "gonzo journalist," completed a year-long journey across South America, filing a series of dispatches for an upstart newspaper called the National Observer. With the gritty humor and keen political observations that later brought him fame, Thompson reflected on topics that continue to make headlines today: the rise of leftist populism, struggles over resource extraction, and the marginalization of indigenous peoples. Thompson returned to the States transformed, viewing his country from a new perspective that would inform his work and make him the iconoclastic figure we know today.
Five decades later, author and acclaimed travel writer Brian Kevin brings us THE FOOTLOOSE AMERICAN: Following the Hunter S. Thompson Trail Across South America (Broadway Books; May 20, 2014).
"The moment that South America first became real to me, I was tearing across the roadless desert in the back of a jostling beer truck," Kevin begins. With Thompson's ghost as his guide, the author offers a ground-level exploration of twenty-first-century South American culture, politics, and ecology. By contrasting his own thrilling, transformative experiences along the Hunter S. Thompson Trail with those Thompson describes in his published correspondence and largely unpublished Observer pieces, THE FOOTLOOSE AMERICAN is at once a gripping personal journey and a thought-provoking study of culture and place. It will appeal to fans of Thompson, The Lost City of Z, and Turn Right at Machu Picchu alike.
BRIAN KEVIN is a Lowell Thomas Award winner and a contributing editor at Down East magazine. His work has appeared in Outside, Travel + Leisure, Men's Journal, Sierra, and Mother Jones. He was raised in Wisconsin and studied creative nonfiction at the University of Montana. He has lived in Minnesota, Oregon, and Montana, and currently resides with his wife in a fishing village in Maine. Visit www.briankevin.com to learn more about him, and visit thefootlooseamerican.com to learn more about his book. 
Related Posts: