Press Releases
TICKER: The Quest to Create an Artificial Heart by Mimi Swartz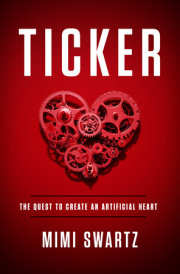 Mimi Swartz
Imprint: Crown
On sale: August 7, 2018
Price: $27.00
Pages: 336
ISBN: 9780804138000
Contact:
Sarah Breivogel
212-572-2722
sbreivogel@penguinrandomhouse.com
From two-time National Magazine Award winner Mimi Swartz comes a brilliant, deeply reported narrative about one of the greatest medical and technological quests of our time—the evolution of an artificial heart. 
Select Praise for Mimi Swartz and TICKER:
"A riveting medical thriller . . . Told in an appropriately over-the-top style, this is a quintessentially Texas story: sprawling, unpredictable, and teeming with risk and opportunity."
—Publishers Weekly
"Even casually interested readers will become fascinated by Swartz's vivid depiction of Frazier at work in the operating room. . . . Swartz is a witty, savvy, seasoned journalist, and she offers a welcome history of significant medical advances."
—Kirkus Reviews
"Smart, compelling, and completely engaging, Ticker is a story about science, personality, innovation, and obsession, all in pursuit of a staggering accomplishment, the creation of an artificial heart. Mimi Swartz drives the narrative with great style and deep reporting; it's a book anyone with a heart will love."
—Susan Orlean, author of Rin Tin Tin: The Life and the Legend and The Orchid Thief
"A remarkable journey through the harrowing world of heart surgery, as a brilliantly gifted and eccentric team of doctors work to develop a complete artificial heart to save the thousands of patients a year whose hearts are failing."
—Bryan Burrough, author of Public Enemies, The Big Rich, and Barbarians at the Gate
Heart disease is the number one killer in the United States and worldwide, with an estimated 50,000 people in dire need of a heart transplant to survive. Yet in the United States, only 2,500 heart transplants are performed a year: there simply are not enough healthy organs to go around. Because heart disease, which kills more people around the world than all the cancers combined, is the primary threat to human health across the globe, the search for a successful artificial heart has been a holy grail of medicine for decades, since the first open-heart surgery. Part investigative journalism, part medical mystery, TICKER: The Quest to Create an Artificial Heart (Crown; August 7, 2018), by renowned journalist Mimi Swartz, is a dazzling story of modern innovation. The book takes readers on an incredible behind-the-scenes journey into a heart surgeon's epic pursuit of a total artificial heart—a dream of a reliable, implantable device that would extend the lives of patients who have no other recourse.
As director of cardiovascular surgery at the Texas Heart Institute, and one of the foremost heart surgeons in the world, Dr. O. H. "Bud" Frazier's lifelong mission has been to save lives by creating just such a device, despite opposition and derision from many of his colleagues. TICKER chronicles the evolution of cardiac medicine, from pioneering efforts in open-heart surgery by the likes of famed heart surgeons Michael DeBakey and Denton Cooley, to the advent of heart transplants, to protégé Bud Frazier's development of Left Ventricle Assist Devices (LVADs), so-called half hearts, which saved the life of Vice President Dick Cheney, among many others.
With exclusive access, Swartz follows Dr. Frazier and his colleague Dr. Billy Cohn as they feverishly design, develop, and test new heart designs. This gripping chronicle travels from the operating theater to the animal research labs of the famed Texas Heart Institute. Swartz follows Frazier and Cohn in their relentless quest for funding as government grants disappear. Readers are introduced to Jim McIngvale, aka Mattress Mack, a discount furniture salesman who becomes a prime funder; Daniel Timms, a young Australian inventor who could not have imagined the turn his life would take when he brings his brilliant innovation to Texas; as well as the amazing patients who submit to experimental procedures hoping that if they cannot help themselves, they might help others—if not today, then sometime in the not-too-distant future.
In a sweeping narrative of one man's obsession, Swartz raises some of the hardest questions of the human condition. What are the tradeoffs of medical progress? What is the cost, in suffering and resources, of offering patients a few more months or years of life? Must science do harm to do good? TICKER is an enthralling narrative that takes readers on an unforgettable journey into the power and mystery of the human heart.
# # # # #
About the Author: Mimi Swartz is a longtime executive editor at Texas Monthly, and a two-time National Magazine Award winner and a four-time finalist. The coauthor of the national bestseller Power Failure, with Sherron Watkins, about the collapse of Enron, her work has appeared in The New Yorker, Vanity Fair, Esquire, and Slate, and her op-ed pieces appear regularly in the New York Times.
TICKER: The Quest to Create an Artificial Heart
by Mimi Swartz
Crown • On Sale: August 7, 2018 • Price: $27.00 hardcover • Pages: 336
ISBN 978-0-8041-3800-0
Also available as an ebook
Visit crownpublishing.com.
You can find the author on Twitter @mimiswartz.
Related Posts:
You Might Also Like