Press Releases
THRESHOLDS by Sherre Hirsch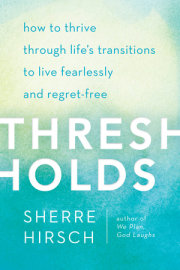 Sherre Hirsch
Imprint: Harmony
On sale: August 18, 2015
Price: $20.00
Pages: 192
ISBN: 9780307590831
Contact:
Lauren Cook
212 782-9486
lcook@penguinrandomhouse.com
In her new book, THRESHOLDS: How to Thrive Through Life's Transitions to Live Fearlessly and Regret-Free (Harmony Books, on sale 8/18/15), inspirational speaker and rabbi Sherre Hirsch helps guide us through these transitions and teaches us how to build a rich and rewarding life by learning to embrace all the exciting possibilities and opportunities that change can bring.
We will all find ourselves standing at a transitional moment many times in our lives. Some will be exciting—a new job, a marriage, the birth of a child. Others—the death of a parent, an empty nest, a divorce—will be painful. Either way, crossing from a stage in life that is comfortable and familiar into one that feels uncertain and unpredictable can be terrifying.
With practical tools, Rabbi Hirsch helps you view barriers and obstacles as doorways to bigger and better opportunities. She guides readers to embrace change rather than fear it.
Hirsch is a rabbi and the author of We Plan, God Laughs, although, surprisingly, faith in God is not required to benefit from this new book. All that is required is faith in yourself, and Hirsch knows how to get you there. Drawing on decades of counseling individuals of all faiths and religions, the wisdom of ancient stories, research from psychology, and tales from real life, Hirsch helps readers summon the faith, courage, and confidence to seize the exhilarating new possibilities and experiences that lie across the threshold.
With a warm and empathetic style, Hirsch, like a trusted friend, wise counselor, and spiritual adviser, guides readers through the most challenging transitions of their one precious life.
 ###
ABOUT THE AUTHOR: For over twenty years, Sherre Hirsch has been sharing her intimate counsel and wisdom with people in all kinds of "pulpits," ranging from her congregation at Sinai Temple in Los Angeles to the audience of the Today show to small Southern Baptist churches. She serves as the spiritual life consultant for Canyon Ranch Properties and is a highly sought-after inspirational speaker and teacher who routinely addresses congregations, corporations, women's groups, leadership organizations, and countless other audiences throughout the United States. Visit her at www.SherreHirsch.com or follow her on Twitter @sherrehirsch.

Related Posts: