Press Releases
Three original Doctor Who adventures, Justin Richards's Plague of the Cybermen, Nicholas Briggs'sThe Dalek Generation, and Tommy Donbavand's Shroud of Sorrow
The first three books in Broadway's all-new Doctor Who series feature the Eleventh Doctor as played by Matt Smith in the spectacular hit series from BBC Television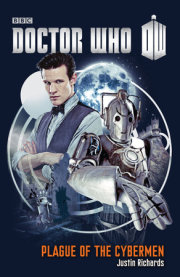 Justin Richards
Imprint: Broadway Paperbacks
On sale: April 2, 2013
Price: $9.99
Pages: 256
ISBN: 9780385346764
Contact:
Lauren Kuhn
212-782-8637
lkuhn@randomhouse.com
Since Doctor Who's 2005 revival after an almost fifteen-year hiatus, the British sci-fi show has become an American cult phenomenon, as an Entertainment Weekly cover feature noted in August 2012. But the show's U.S. following is such that "cult" may well be an understatement. In September, 2.47 million Americans watched Matt Smith and Karen Gillan as the Doctor and Amy in the show's season seven premiere, giving BBC America its highest rating ever—previously, in 2011, the show was iTunes' number one most downloaded television series, outselling favorites such as Glee and Mad Men. In December, Doctor Who won TV Guide's "Fan Favorites," and 2.4 million viewers tuned in to the show's Christmas special.
Who fervor is on the rise, given the show's 50th anniversary this year, so Broadway is thrilled to introduce its forthcoming paperback original Doctor Who tie-in series, sure to feed that insatiable fandom. Featuring all-new Eleventh Doctor adventures and to be published on April 2 to coincide with the new Doctor Who episodes that will air on BBC America starting March 30, Justin Richards's Doctor Who: Plague of the Cybermen, Nicholas Briggs's Doctor Who: The Dalek Generation, and Tommy Donbavand's Doctor Who: Shroud of Sorrow are penned in collaboration with BBC's Cardiff-based TV production team. These authors are given advance access to the scripts of forthcoming episodes and made privy to the secrets of the Doctor's future before even the most fanatical of fans. Approved by the BBC to make sure nothing is overlooked, these books have the intimate and authentic feel of lost episodes.
In Doctor Who: The Dalek Generation, we find the Doctor investigating a world in which the Daleks suspiciously seem to be a force for good. In Doctor Who: Shroud of Sorrow, the aftermath of JFK's assassination is the setting for an attack by an alien Shroud feasting on the grief of a world in mourning. In Doctor Who: Plague of the Cybermen, the Doctor discovers the residents of a 19th-century village beset by a plague that causes its victims to leave their graves. As we follow the Doctor through new catastrophes in history, on earth, and in space, reading Doctor Who: Plague of the Cybermen, Doctor Who: The Dalek Generation, and Doctor Who: Shroud of Sorrow might just be the next best thing to traveling around in a TARDIS, sonic screwdriver in tow, and will leave fans eagerly awaiting Broadway's fourth all-new Doctor Who adventure, acclaimed science-fiction author Alastair Reynolds's Doctor Who: Harvest of Time, featuring the Third Doctor, in June. 
ABOUT THE AUTHORS: 
JUSTIN RICHARDS has written numerous science-fiction and fantasy novels, including several previous Doctor Who tie-ins. He is creative consultant for BBC Books' range of Doctor Who fiction. 
NICHOLAS BRIGGS is a British actor and writer who has worked on Doctor Who since the 1980s. He has played numerous roles on the show but is best known as the voice of the Doctor's archenemy, the Daleks. 
TOMMY DONBAVAND is an author, actor, and playwright best known for his Scream Street novels for kids. He is also a huge fan of all things Doctor Who, plays blues harmonica, and makes a mean balloon poodle. 
ALASTAIR REYNOLDS' novels have appeared on numerous "best SF" lists and won several major awards.
Related Posts: