Press Releases
This Is The Day
Reclaim Your Dream. Ignite Your Passion. Live Your Purpose.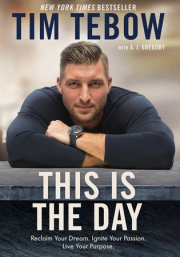 Tim Tebow
Imprint: WaterBrook
On sale: September 25, 2018
Price: $17
Pages: 224
ISBN: 9780525650300
STAR ATHLETE AND MEDIA ICON, TIM TEBOW, CHALLENGES READERS TO GET OFF AUTOPILOT AND STOP WAITING UNTIL TOMORROW TO REACH YOUR GOALS AND DREAMS
"You were made not just to survive today but to thrive in it. Stop putting off your dreams, your goals …You can have purpose not only in your life but also in this day." – Tim Tebow
Former NFL quarterback, Heisman Trophy winner, sports broadcaster, baseball player, and New York Times best-selling author Tim Tebow believes that it is never too late. No one is ever too young or too old to have purpose in this life and in this day. He encourages readers in his new book, THIS IS THE DAY: RECLAIM YOUR DREAM. IGNITE YOUR PASSION. LIVE YOUR PURPOSE (WaterBrook; September 25, 2018), to stop postponing their dreams and start making them happen now because this is the day.
Tebow has seen too many people become "one-dayers." People that say things like:
-"One day I'm going to do this or that."
-"One day I'm going to go on a mission trip."
-"One day I'm going to do something significant."
-"One day I'm going to live with purpose."
He reminds readers, there are no guarantees for how many days we are going to have. That is why it is so important to live each day on purpose. Whether someone needs to get healthy, change careers, seek inner change, or reach out to somebody in need, readers will be inspired to take action, starting now, in pursuing God's purpose.
Tebow is living "This is the Day" in his pursuit of a professional baseball career, having signed with the New York Mets in 2016. The book combines personal stories from his professional baseball quest, as well as the heartache of learning that his father has Parkinson's disease, and even offers a peek into a family vacation and insight into why the Tebows are so competitive.
Through Tebow's personal examples and life coaching in THIS IS THE DAY, readers will be challenged to kick start a personal journey toward seizing their own opportunities and start really living.
Tebow challenges readers to:
-Have passion, take risks, and follow their dreams
-Stay focused on what really matters in a world of distractions
-Tune out the voices of failure and self-doubt
-Commit to growth and positive change—even when it's hard
Tebow's hope for this new book is to awaken readers to think differently, live better, and dream bigger. "Imagine the morning alarm going off, and instead of groaning or slapping the snooze button, our minds, our hearts, and our souls were awakened to possibilities. Something better. Something more," says Tebow. "Imagine waking up each day fueled by a whisper, 'This is the day.' Because life isn't about one day. It's about this day."
# # #
TIM TEBOW is a two-time national college football champion, Heisman Trophy winner, first-round NFL draft pick, ESPN contributor, and professional baseball outfielder with the New York Mets. He is the author of the New York Times bestseller Shaken, which was named the Evangelical Christian Publishers Association's 2017 Book of the Year. Tebow's true passion remains the work of the Tim Tebow Foundation which he began in 2010. The foundation's mission is to bring Faith, Hope, and Love to those needing a brighter day in their darkest hour of need. The foundation fulfills this mission everyday by serving thousands of deserving children around the world.
Facebook: https://www.facebook.com/TimTebow
Twitter/Instagram: @TimTebow
For more information, visit www.waterbrookmultnomah.com or https://timtebow.com/thisistheday/
Related Posts: