Press Releases
The Young Entrepreneur's Guide to Starting and Running a Business:
Turn your ideas into money!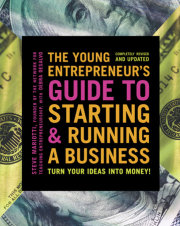 Steve Mariotti with Debra Desalvo
Imprint: Crown Business
On sale: April 29, 2014
Price: $23.00
Pages: 496
ISBN: 9780385348546
Contact:
Ayelet Gruenspecht
212-782-9016
agruenspecht@randomhouse.com
The must-have guide to finding success and fulfillment by becoming an entrepreneur.  Now revised and updated to cover social media and online marketing.
Many of us have great business ideas, but have no idea how to start, let alone run a business successfully. The Young Entrepreneur's Guide to Starting and Running a Business by Steve Mariotti, founder of the Network for Teaching Entrepreneurship (NFTE), offers step-by-step information on how to do just that.  Through stories of young entrepreneurs who have started businesses, this book illustrates how to turn hobbies, skills, and interests into profit-making ventures. No matter who you are, you have unique knowledge—of your neighborhood, your friend groups or social networks—that can be used to start a thriving business. Mariotti describes the characteristics of the successful entrepreneur and covers the nuts and bolts of getting a business up, running and successful.
This completely updated edition is also filled with real, inspirational stories- from superstar entrepreneurs like Microsoft's Bill Gates and Motown Records fonder Berry Gordy to young people who learned through NFTE.
This edition also includes the latest info on the tremendous entrepreneurial opportunities now readily available online.
Lessons include:
Write a winning business plan to attract investors
Register your business legally and easily
Understand finances and keep smart records
Conduct market research that really works
Use social media to connect with customers around the world
It doesn't matter where a person is from or how little money they have; a profitable business can emerge by following the steps outlined in this book.
Related Posts:
You Might Also Like