Press Releases
The Weed Agency by Jim Geraghty
A Comic Tale of Federal Bureaucracy Without Limits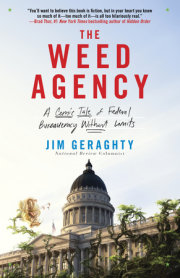 Jim Geraghty
Imprint: Crown Forum
On sale: June 3, 2014
Price: $13.00
Pages: 272
ISBN: 9780770436520
Contact:
Ellen Folan
212-782-8944
efolan@randomhouse.com
USDA Agency of Invasive Species
Growing annually to monitor the pests that grow annually.
"Largitor amplus ab aeterno."
Praise for THE WEED AGENCY:
 "No matter your politics, Jim provides an entertaining look at just how the good intentions of a federal law or regulation can get misused over time to become more of a problem than a solution.  Interestingly, lock any two veteran Washington politicians from opposite parties in a room and they'll admit that some federal agencies need to be reined in. Like anything with Washington these days, sometimes all it takes is a little sunlight to grab their attention."—Chuck Todd, NBC News
 "Jim Geraghty is smart, funny, compelling, entertaining…and his book does real damage to liberals if thrown hard enough." —Governor Bobby Jindal
"A conservative comic romp through the toughest corridors of federal bureaucracy….a fun glimpse into the fake-but-accurate world of bureaucratic infighting." —Jake Tapper, author of The Outpost

"The Weed Agency brilliantly captures the absurdity of the real Washington. It is, as they say, funny because it's true." —Jonah Goldberg, author of The Tyranny of Clichés 

"Geraghty captures the hilarious realities of Washington waste brilliantly. And we all need to laugh at Washington to stop from crying." —S. E. Cupp, author of Losing Our Religion and CNN host
"Jim Geraghty absolutely nails it. You'll want to believe this book is fiction, but in your heart you know so much of it—too much of it—is all too hilariously real." —Brad Thor, #1 New York Times bestselling author of Hidden Order
 You've already seen the effects of big government on your healthcare coverage, as you whiled away the hours waiting for a website to work. You've experienced how helpful the bureaucracy can be when they fiddle with our national security and still botch the job. And you've undoubtedly felt their effects on your wallet. But what about the all-important fight against noxious weeds? Now with THE WEED AGENCY: A Comic Tale of Federal Bureaucracy Without Limits (Crown Forum, Trade Paperback, June 3, 2014), National Review columnist Jim Geraghty takes us deep inside the little-known USDA Agency of Invasive Species, shedding light on exactly how the Beltway minions protect their share of your tax dollars.
The Agency of Invasive Species (AIS)—founded in 1977 by President and humble peanut farmer Jimmy Carter—is, as the name suggests, the federal agency tasked with monitoring and mitigating the constant threat of invasive species, particularly weeds. The AIS would like to reassure you that they rank among the most effective and cost-efficient offices within the sprawling federal bureaucracy. For decades, under Administrative Director Adam Humphrey and his "strategic disengagement" approach, the Agency has epitomized vigilance against the clear and present danger of noxious weeds. Humphrey's record of triumphant inertia faces only two obstacles. The first is reality; the second is the loud critic who dares to question the magic behind the Agency's success: Nicholas Bader. Formerly known as President Reagan's "bloody right hand," Bader is on an obsessive quest to trim the fat from the federal budget.
Full of oddball characters who shed light on the daily operations of big government, THE WEED AGENCY showcases a world in which federal budgets balloon every year, where a career can be built upon the skill of rationalizing astronomical expenses, and where the word "accountability" sends roars of laughter through DC office buildings. That's life inside the fictional federal Agency of Invasive Species… and it may sound suspiciously similar to your reality.
About the Author
Jim Geraghty is a blogger and contributing editor at National Review, and writes columns for the New York Daily News, Philadelphia Inquirer, and The Guardian. He's the author of the daily newsletter The Morning Jolt. He resides in Alexandria, Virginia.

Related Posts:
You Might Also Like