Press Releases
The Wall Street Journal Guide to Building Your Career
The best way to navigate a tough economy? Stop moving aimlessly from job to job, and start planning for a lifelong career.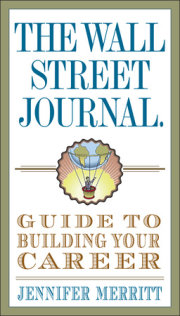 Jennifer Merritt
Imprint: Currency
On sale: April 3, 2012
Price: $17
Pages: 208
ISBN: 9780307719560
Contact:
Catherine Cullen
212-782-9634
cacullen@randomhouse.com
In this tepid job market, everyone is looking for an edge. THE WALL STREET JOURNAL GUIDE TO BUILDING YOUR CAREER (Crown Business paperback original: April 3, 2012) is the definitive source for landing a job, scoring a promotion, and securing your future. This book, from the trusted WSJ brand, is more than just a how-to guide for job seekers. It is a step-by-step approach to a lifetime career.
JENNIFER MERRITT is a veteran business reporter and former careers editor for The Wall Street Journal, with over a decade of experience covering careers and wealth management. Merritt's book breaks career-building down into a manageable, step-by-step process that follows a traditional career trajectory, from the college classroom to the corner office.
–Identify career goals: Sit down and examine your strengths and weaknesses to identify jobs that blend what you are good at with what fascinates you.
–Find the right internship: Internships are the new first job. Get the earliest start possible in a position that gives you tangible, hands-on experience in your chosen field.
–Land that first job: Extensive research, a crisp résumé, and networking prowess all help you get your foot in the door for your first interviews.
–Climb the corporate ladder: Setting annual goals, modeling your career path after a mentor, and asking for constructive criticism set you on track to earn that promotion.
Building a career is more than just securing a job in your chosen field or pursuing a string of unrelated professional opportunities. A career is a lifelong endeavor, a series of jobs built one on top of the other, each utilizing and building on the skills and experiences you've previously developed. With every job, you should be expanding and honing your expertise and acquiring new skills you'll bring with you to the next level.
THE WALL STREET JOURNAL GUIDE TO BUILDING YOUR CAREER takes the long view, training job seekers to put their goals into a lifetime perspective, without wasting time on quick fixes. BUILDING YOUR CAREER is for everyone from first-time job seekers to mid-career changers, helping them identify the working life they really want and make a plan to achieve it. At a time when professional positions are more sought-after and competitive than ever, Merritt offers tried-and-true advice for building a solid foundation and securing a successful future in the workplace.
ABOUT THE AUTHOR
JENNIFER MERRITT is the Wealth Management editor at Thomson Reuters. She has been covering career stories for the last decade, recently as the careers editor for The Wall Street Journal. Jennifer developed the Journal's career-change columns "Second Acts" and "90 Days" and also edited the Sunday Journal column "Reinvent." She pens the popular blog "Laid Off and Looking." Previously, she was an editor at Money, a business editor at the Florida Times-Union, and an editor and writer at BusinessWeek. She regularly appears on CNN's Your Money and Your Bottom Line, and has appeared on Good Morning America and Fox News.
Related Posts:
You Might Also Like