Press Releases
The Tuscan Sun Cookbook by Frances Mayes & Edward Mayes
From the beloved author of Under the Tuscan Sun comes her very first Italian cookbook, with more than 150 recipes inspired by 20 years of living in Italy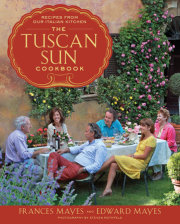 Frances Mayes
Imprint: Clarkson Potter
On sale: March 13, 2012
Price: $29.99
Pages: 224
ISBN: 9780307885289
Contact:
Anna Mintz
212-572-6186
amintz@randomhouse.com
Since her wildly successful debut memoir, Under the Tuscan Sun, with over 2.5 million copies in print, and the subsequent release of the movie starring Diane Lane, Frances Mayes's name has become synonymous with all things Tuscan. In her first-ever cookbook, The Tuscan Sun Cookbook: Recipes from Our Italian Kitchen (Clarkson Potter/Publishers; March 13, 2012; $29.99; hardcover), Frances and her husband, Ed, welcome readers to Bramasole, their home in Cortona; introduce their friends; and share more than 150 recipes that they have enjoyed as honorary Italians. A long toast to the experiences she's had over two decades at Bramasole, The Tuscan Sun Cookbook evokes days spent roaming the countryside for chestnuts, green almonds, blackberries, and porcini; dinner parties stretching into the wee hours of the morning; and farmers' market bins tumbling over with bright red tomatoes and lustrous eggplants.
Brimming with tempting recipes, from simple balsamic red peppers to an all-day pork roast and the traditional Torta Della Nonna, The Tuscan Sun Cookbook invites home cooks to pour a glass of wine, throw on another handful of pasta, pull up a chair, and languish in the rustic Italian way of life.
With chapters organized like a classic Italian dinner, the book includes such recipes as:
–ANTIPASTI: Fried Zucchini Flowers, When-In-Rome Artichokes, Baked Olives with Citrus Peel and Garlic, Star of the Sea Gratinato, and a variety of Bruschette and Crostini
–PRIMI: Pici with Fresh Fava Beans, Spaghetti with Lemon and Crab, Angry Pasta, Wild Mushroom Lasagne, Pizza with Caramelized Onion and Sausage, Pappa al Pomodoro, and Minestrone
–SECONDI: Chicken Under a Brick, Ed's Pork Roast, Ossobuco, Short Ribs Tuscan Style, Rich Polenta Parmigiana with Funghi Porcini, Sea Bass in a Salt Crust, and Frances's Summer Shrimp Salad
–CONTORNI: Baked Peppers with Ricotta and Basil, Garlic Flan, Fava Beans with Potatoes and Artichokes, Green Beans with Black Olives, Eggplant Involtini, Zucchini with Lemon Pesto
–DOLCI: Peach Gelato, Basil and Mint Sorbetto, Tulip Shells with Three Berries, Rustic Apple Bread Pudding, Silvia's Ricotta Tart, Cherries Steeped in Red Wine, and Lemon Cake
In all of Frances Mayes's bestselling memoirs about Tuscany, food has played a starring role, but The Tuscan Sun Cookbook is her first cookbook – and one that will utterly transport you to the friendly, genuine, and improvisational spirit of Tuscan life by way of the table. She shows how this cuisine goes hand in hand with the Tuscans' generous sense of friendship and their legendary enthusiasm.
With truly outstanding color photographs—not only of the food itself, but also of Italian locals tasting wine and playing cards; of glorious ruddy, golden, and deep green landscapes; and of Frances's garden and her tables set with delicious dishes—these 150 from-the-heart-of-Tuscany recipes highlight a secret ingredient: the pleasure of the simple, traditional kitchen. 

#  #  #
ABOUT THE AUTHORS:
Named the "bard of Tuscany" by the New York Times, FRANCES MAYES is the author of the bestsellers Under the Tuscan Sun, Bella Tuscany, Every Day in Tuscany, and, with EDWARD MAYES, In Tuscany and Bringing Tuscany Home. There are more than 3 million copies of her books in print. Edward is the prize-winning author of four books of poetry, most recently Speed of Life and Works and Days.
STEVEN ROTHFELD is the photographer of Bringing Tuscany Home, Italian Dreams, Entrez, Shrines, and Hungry for France. Since 1999, he and Frances have celebrated Tuscan life in the Under the Tuscan Sun engagement calendars.
Related Posts:
You Might Also Like