Press Releases
The star of the hit Fox television show Glee shares her experiences and insider tips on beauty, fashion, inner strength, and more
Brunette Ambition by Lea Michele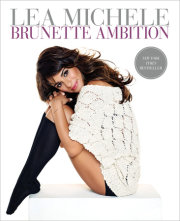 Lea Michele
Imprint: Crown Archetype
On sale: May 20, 2014
Price: $21.00
Pages: 208
ISBN: 9780804139076
Contact:
Tammy Blake
212-572-2542
tblake@randomhouse.com
"Michele's warm, easygoing tone and colorful anecdotes will appeal to her devoted fan base." — Publishers Weekly
 Lea Michele is one of the hardest-working performers in show business. She is best known as Rachel Berry on the hit Fox television show Glee, but she's also a recording artist, a L'Oréal spokesperson, and a red carpet superstar. Lea knows better than anyone that it is difficult to be your best self and keep things in perspective when your to-do list is overflowing and you are faced with challenges.
Now in her first book, BRUNETTE AMBITION (Crown Archetype; on Sale May 20, 2014; $21.00), Lea shares her foolproof system for remaining healthy and centered, revealing practical advice and lessons she's learned along the way, from beauty and fashion secrets to fitness tips and career insights.
BRUNETTE AMBITION offers guidance on everything from career (take initiative and continually work on and develop your skills), to taking care of one's body (treat yourself to homemade spa treatments like facials and hair masques), to friendship (if you feel you can't be yourself, something is wrong with the friendship), and staying healthy (read food labels carefully, check for healthier versions of junk food, and make your own meals) to her favorite and easy-to-prepare recipes, including French-style lentil soup, egg white frittata, and a veggie lentil burger, as well as her step-by-step exercise routines. She also answers some of frequently asked questions from fans, including what she would do if she couldn't act, the best and worst career advice she's ever received, and her favorite Glee songs and moments. Sprinkled throughout are lists featuring her favorite things, how she'd spend an ideal Sunday, her favorite movie snacks, her relaxation must-haves, her bath and shower essentials, and much more.
BRUNETTE AMBITION takes readers through Lea's journey from normal Bronx-born schoolgirl to Broadway child star to lead actress in one of the most popular shows on television.
With behind-the-scenes photos and revealing anecdotes from Lea's rise to stardom, BRUNETTE AMBITION is the book Lea wishes she'd had to light the way when she was younger: a practical and inspirational guide to harness tenacity and passion to become your best self.
###
About The Author:
LEA MICHELE is best known for her performance as Rachel Berry on the critically acclaimed, Golden Globe, Grammy, and SAG award-winning Fox television series Glee. She has been nominated for an Emmy, a SAG Award, and multiple Golden Globes. She's also recently released her debut solo album, Louder. She divides her time between New York and Los Angeles.
Related Posts:
You Might Also Like