Press Releases
The sleepy fathers of HowToBeADad.com share their clever methods for coping with newborns at night
The Guide to Baby Sleep Positions: Survival Tips for Co-sleeping Parents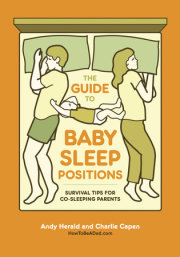 Andy Herald & Charlie Capen
Imprint: Potter Style
On sale: April 2, 2013
Price: $9.95
Pages: 64
ISBN: 9780449819876
Contact:
Kim Small
212-572-6067
ksmall@randomhouse.com
The clever yet sleep-challenged fathers from HowToBeADad.com, the popular parenting entertainment site, found that laughter was the best way to cope with the confounding nighttime needs of newborns. THE GUIDE TO BABY SLEEP POSITIONS: Survival Tips for Co-sleeping Parents (Potter Style, $9.95, on sale April 2, 2013) is a humorous visual catalog of ways that co-sleeping with a baby can completely sabotage a good night's sleep. Each diagram is paired with bulleted text that outlines the particulars of each position: its Sleep-Deprivation Ranking; tips for coping; side effects you'll feel the next day; and what this position reveals about the hidden "talents" of your child.
Authors Andy Herald and Charlie Capen started their blog after bonding over mutual caffeine addictions and new-baby-picture oversharing on Facebook. Only two chapters into a parenting book for fathers, Charlie dumped it in the trash and gave Andy a call for the first time. So they created the incredibly successful HowToBeADad.com with the intention of doing something completely different, where you learn by learning nothing. So far, they have survived the process.
Their baby sleep positions have been wildly viral on every conceivable digital space, and many new parents will be delighted with the brand-new content in this gift book. Whether given as a present to a spouse for Mother's Day or Father's Day, or as a shower gift to the new parent-to-be in your life, everyone can laugh at the universally relatable humor in this book!
Safer than sleeping pills, THE GUIDE TO BABY SLEEP POSITIONS is a surefire sanity saver making those sleepless nights less daunting and more entertaining!
Related Posts: