Press Releases
The Shadow Queen by Rebecca Dean
A king would abdicate his throne for her in one of the world's great love stories —but who was Wallis Simpson?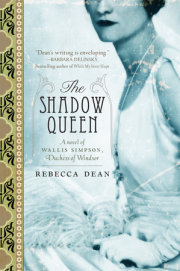 Rebecca Dean
Imprint: Broadway Paperbacks
On sale: August 14, 2012
Price: $15.00
Pages: 432
ISBN: 9780767930574
Contact:
Sarah Breivogel
212-572-2722
sbreivogel@randomhouse.com
Praise for Rebecca Dean:
"If you love Philippa Gregory, you'll love Rebecca Dean!" —Nora Roberts
The Golden Prince (2010)
"Well researched and well written, this is romantic historical fiction at its best." —Library Journal
"With her insight into the era, Dean brilliantly depicts the man and England so well that readers will believe they are part of the whirlwind that was 1911 England. Through her elegant prose and vibrant descriptions, that world comes to life." —The Romantic Times
"Compellingly readable. Written with panache and skill as personal secrets combine with international intrigue. The Golden Prince finds its center in the wholly believable story of a young Edward, chafing at the unbreachable boundaries of his restricted life. Dean's telling of the conflict between love and duty is sympathetic and truly moving." —Richmond Times Dispatch
Palace Circle (2009)
"Dean taps into an exotic and distant world in her page-turning debut. Marvelous . . . Dean beautifully captures the mood and color of the era." —Publishers Weekly
"[A] breathlessly plotted debut . . . cataclysmic world and family crises entertainingly refracted through a prism of privilege." —Kirkus
In The Golden Prince, the second of her beloved historical novels, Rebecca Dean transported us to early twentieth-century British high society and introduced us to her imagining of the man who would become forever known as the king who gave up his throne for "the woman I love." Vividly imagining Edward VIII's years as the charming but frustratingly constrained Prince of Wales, Dean rendered a gripping and tumultuous romantic history that would provide context for his shocking decision later to marry American socialite and divorcée Wallis Simpson. In THE SHADOW QUEEN (Broadway Books; On Sale August 14, 2012; $15.00 paperback), Dean gives us the complementary portrait to their controversial love affair in taking for her inspiration Wallis Simpson herself.
Often cast as a figure as scandalous as the constitutional crisis that ensued when the king chose her over his crown, Simpson has long been shrouded in intrigue and has been depicted as a sexual deviant, a Nazi sympathizer, and, in Anne Sebba's recent biography, possibly a hermaphrodite. In Dean's novel, we find a strong—if stubborn and sometimes manipulative—woman who is bold, smart, resourceful, competitive, and, in many ways, willing to disregard the constrictions placed on her gender during her time.
Born into a poor southern family but taken in by rich relatives, Wallis Simpson was raised as a socialite. Between family conflicts and debutante balls, she and her friends dreamed of their future husbands, and like millions of girls worldwide, fantasized about Prince Edward, the heir to the British throne who would someday be king. Dean imagines the early life of Wallis Simpson, her triumphs and heartbreaks as she tries to prove herself among peers whose backgrounds are more stable than her own, and envisions the making of the twice-divorced, nearly destitute woman who captured a king's heart and changed the course of history.
Beyond its investigation into the life of Wallis Simpson, Dean's novel also brings up interesting questions about the royal family today. What would make a prince who knows he'll be king one day fall in love with a woman he wasn't meant to have? And if Prince Charles can become king while married to a divorced commoner, why couldn't Edward have married Wallis and kept his crown?  Set against a background of high society, royal circles, and diplomatic intrigue, THE SHADOW QUEEN offers a nuanced examination of one of the most fascinating and controversial women of the twentieth century.
ABOUT THE AUTHOR: REBECCA DEAN is the author of Palace Circle and The Golden Prince. She was born in Yorkshire, England, and lives in London with her husband and two dogs.