Press Releases
The Secrets of the FBI by Ronald Kessler
From Watergate to Waco, from congressional scandals to the takedown of Osama bin Laden, from Vince Foster's death to the swap of Russian spies, The Secrets of the FBI, now in paperback, presents headline-making disclosures about the most important figures and events of our time.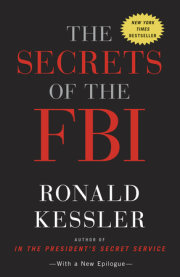 Ronald Kessler
Imprint: Broadway Paperbacks
On sale: August 07, 2012
Price: $15.00
Pages: 304
ISBN: 9780307719706
Contact:
Sarah Breivogel
(212) 572-2722
sbreivogel@randomhouse.com
Praise for The Secrets of the FBI:
"Ron Kessler appears to get everything first." —Slate

"Having reported on the FBI for decades and written two bestsellers on the agency, Kessler really does have some secrets to share. These have less to do with how the FBI functions than with what its agents have learned while dealing with the White House, Wall Street, terrorists, spies, the Mafia, and more. Oooh, some dirty revelations? Try for all your crime-fiction fans." —Library Journal
"I don't know how the author Ronald Kessler does it, convincing some FBI agents to sing like canaries….Reads like a spy novel." —Washington Independent Review of Books
Praise for In the President's Secret Service:
"[A] fascinating exposé . . . amusing, saucy, often disturbing anecdotes about the VIPs the Secret Service has protected and still protects . . . [Accounts come] directly from current and retired agents (most identified by name, to Kessler's credit). . . . Balancing the sordid tales are the kinder stories of presidential humanity. . . . [Kessler is a] respected journalist and former Washington Post reporter.  . . . an insightful and entertaining story." —USA Today
"Kessler's such a skilled storyteller, you almost forget this is dead-serious nonfiction." —Newsweek
"Rips the lid off the inside world of Secret Service agents and the presidents they protect."—New York Post
Based on his unparalleled access to hundreds of current and former FBI agents, award-winning journalist and New York Times bestselling author Ronald Kessler delivers a treasure trove of revelations in THE SECRETS OF THE FBI (Broadway Paperbacks, on sale August 7, 2012), now available in paperback.
Already a hardcover bestseller, the paperback edition of THE SECRETS OF THE FBI includes an explosive new epilogue with newsworthy information involving the New York City Police Department and abuses of rights, a timely topic and one sure to create controversy. Kessler discloses J. Edgar Hoover's sexual orientation, what triggered Vince Foster's suicide, what preceded Marilyn Monroe's death, and the real story of how the FBI caught spy Robert Hanssen in its midst. Kessler goes behind the scenes at the FBI laboratory and training center and presents an exclusive interview with FBI director Robert S. Mueller. For the first time, he reveals how agents break into homes, offices, and embassies to plant bugging devices without getting caught and shot as burglars. The narrative culminates with the inside story of the FBI's involvement in the raid on bin Laden's compound.
THE SECRETS OF THE FBI discloses the FBI's most closely guarded secrets and the secrets of celebrities, politicians, and movie stars uncovered by agents during their investigations. The book reveals:
• Robert F. Kennedy secretly borrowed the personal car of the FBI agent in charge of the Los Angeles field office to visit Marilyn Monroe just before she took her own life.
• FBI agents determined that an encounter with Hillary Clinton triggered Vince Foster's suicide a week later.
• Russia tried to include convicted spies Robert Hanssen and Aldrich Ames in the swap of Russian spies arrested by the FBI and tried to contact Ames in prison.
• After he was killed, the FBI could not match Osama bin Laden's fingerprints.
• Contrary to the portrayal in the movie Breach, it was FBI agent Mike Rochford who uncovered fellow agent Robert Hanssen as a spy.
• FBI director J. Edgar Hoover had a spousal relationship with his deputy, Clyde Tolson.
• What the FBI thinks about President Obama, Secretary of Homeland Security Janet Napolitano, and Director of National Intelligence James R. Clapper Jr.
• When planting bugs in the homes and offices of Mafia figures, spies, and terrorists, FBI agents tranquilize dogs, stage fake traffic accidents, and instruct police to stop occupants who try to return.
When it comes to developing access to top players, uncovering secrets, and writing a vivid tale, Ronald Kessler is without peer. As he did in his New York Times bestseller In the President's Secret Service, Kessler penetrated a wall of secrecy to write a book that is powerful and compelling.
ABOUT THE AUTHOR: Ronald Kessler is the New York Times bestselling author of nineteen nonfiction books, including In the President's Secret Service, The Terrorist Watch, Inside the White House, and The CIA at War. A former Washington Post and Wall Street Journal investigative reporter, Kessler has won seventeen journalism awards. Kessler lives in Potomac, Maryland, with his wife, Pamela.
Related Posts: