Press Releases
How to Teach Your Children Shakespeare Now in Paperback
With an Introduction by John Lithgow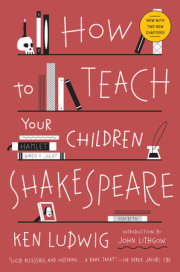 Ken Ludwig
Imprint: Broadway Books
On sale: July 1, 2014
Price: $14.00
Pages: 368
ISBN: 9780307951502
Contact:
Abigail Grace Murdy
212-572-2247
amurdy@randomhouse.com
"Don't be fooled by the title. This book is for anyone who wants to brush up on Shakespeare . . . Don't buy this book to teach your children; take them along as you commit these beautiful speeches to memory."
—Kirkus Reviews

"Ken Ludwig's enthusiasm for Shakespeare and his lucid, accessible, and inspiring book How to Teach Your Children Shakespeare is a rare treat. You and your children will be transformed into the magic and mystery of Shakespeare and his stories in an instant. I highly recommend the book to all who have a love of language and history."  
—Sir Derek Jacobi

"How to Teach Your Children Shakespeare is an inspired and inspiring book. It's also a deeply rewarding one that will bring a great deal of pleasure to many parents and children. Ken Ludwig, a wonderful playwright, proves to be a superb guide to Shakespeare as well."
—James Shapiro, author of A Year in the Life of William Shakespeare and Contested Will

"I wish someone had given this book to my parents. It would have made a life-changing task downright fun. Ken Ludwig is a smart, congenial, and inventive guide, and everywhere in this remarkable book he takes the strangeness out of Shakespeare's work and leaves the enchanting mystery. A book for all lovers, and potential lovers, of Shakespeare. Like nothing else, it creates a magical home theater for parents and their children."
—J. D. McClatchy, Yale University

"I have been in [Ken's] home. His children really do know Shakespeare. Read the book and you'll see why. It's scholarship dancing around with fun."
—Hal Holbrook
Ken Ludwig, world-renowned Broadway playwright of more than twenty plays and musicals—including Crazy for You, Lend Me a Tenor, and Moon Over Buffalo—is a self-professed Shakespeare fanatic. More unusually, so are his children, whom he taught to memorize whole Shakespearean passages with just two hours of practice a week.
Now Ludwig shares his secrets: HOW TO TEACH YOUR CHILDREN SHAKESPEARE (Broadway Books; On Sale July 1, 2014) details a foolproof, enormously fun method to help children memorize passages from Shakespeare's plays while learning a world of information about the Bard's life and works.
When Ludwig's daughter came home from first grade proudly spouting a line of Shakespeare she had learned that day—"I know a bank where the wild thyme grows," from A Midsummer Night's Dream—a light bulb went off in his head. The best way to teach his children about Shakespeare was to have them memorize passages from the plays. He quickly established a family project, spending one hour every Saturday and Sunday with his son and daughter going over Shakespearean dialogue, eventually teaching them hundreds of lines from a variety of plays, including Romeo and Juliet, Twelfth Night, As You Like It, and Hamlet.
But you don't need to be a Shakespeare scholar to reap the benefits of great literature for your children. Ludwig found that a even a rudimentary understanding of Shakespeare is a leg up for any child, giving them a head start in reading comprehension, public speaking, literary history, and overall academic confidence. In HOW TO TEACH YOUR CHILDREN SHAKESPEARE, Ludwig provides the tools to instill children with a lifelong love and understanding of Shakespeare's works, without overwhelming them.
Much like learning a foreign language, the sooner children start absorbing the great works of Shakespeare, the better. Ludwig's method combines read-aloud, repetition, and rhyming techniques together with vivid descriptions of the plays and characters to introduce kids to Shakespeare's world. Taking the time to teach your children is not only a way to enrich their minds, but also to foster your relationship: Spending quality time together to master an impressive feat is a great bonding exercise. Reciting lines together and working up from a single word to an entire passage improves patience, deepens understanding, and yields a deeply satisfying, self-esteem boosting reward.
Alongside the memorization techniques, Ludwig offers a valuable history lesson in Shakespearean theater and the Elizabethan time period. This fun foray into the life of the Bard is further illustrated with photos from various stage and film versions of Shakespeare's plays, keeping children excited and engaged as the project progresses.
HOW TO TEACH YOUR CHILDREN SHAKESPEARE is an irresistible opportunity for parents and children alike—it's impossible to open this delightful book without learning something new.
KEN LUDWIG is an internationally acclaimed playwright who has had numerous hits on Broadway, in London's West End, and throughout the world. His first play on Broadway, Lend Me A Tenor, won two Tony Awards and was nominated for seven.  He has also won two Laurence Olivier Awards (England's highest theater honor), two Helen Hayes Awards and the Edgar Award. His work has been commissioned by the Royal Shakespeare Company and has been performed in more than thirty countries in over twenty languages. Some of his other Broadway and West End shows include Crazy for You, Moon Over Buffalo, Twentieth Century, and adaptations of The Adventures of Tom Sawyer and Treasure Island. He holds degrees from Harvard, where he studied with Leonard Bernstein, Haverford College and Cambridge University in England. Visit him at www.kenludwig.com.
Related Posts: