Press Releases
The Perfectly Imperfect Home by Deborah Needleman
How to Decorate & Live Well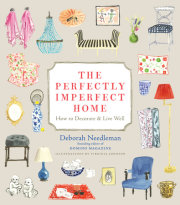 Deborah Needleman
Imprint: Potter Style
On sale: November 1, 2011
Price: $32.5
Pages: 256
ISBN: 9780307720139
Contact:
Jill Browning
212-572-6182
jibrowning@randomhouse.com
"Decoration can be life-enhancing. It can make dinner parties more fun, kids happier, relaxing easier, talks more intimate, guests at ease. And to think decorating is often considered frivolous. Making a charmed and happy home is a noble endeavor!" —Deborah Needleman, from the Introduction
Deborah Needleman, editor in chief of WSJ. Magazine and founding editor and creative mastermind behind domino magazine, is a renowned expert on style and design. She has seen all kinds of homes—from the grandest to the coziest—and believes that the most stylish ones are just as comfortable as they are beautiful.
Now, in THE PERFECTLY IMPERFECT HOME: How to Decorate & Live Well (Clarkson Potter; on sale November 1, 2011), Deborah highlights the 80 essentials everyone needs to create a well-loved, truly lived-in home. Deborah's unique approach focuses not on the things themselves or what they look like, but on how they contribute to our happiness. And the good news: it only takes a few well-considered items to change the feel of a space. All of the essentials are brought to vibrant life through Deborah's witty, informative descriptions and through famed illustrator and textile designer Virginia Johnson's gorgeous and playful watercolor images—commissioned just for this book.
Featuring a mix of inspiring spaces from world-famous tastemakers (Yves Saint Laurent, Brooke Astor, Kate and Andy Spade) and interior designers and friends (Jacques Grange, John Stefanidis, Albert Hadley, Rita Konig, Miles Redd, David Netto), THE PERFECTLY IMPERFECT HOME shows how to add style, expression, and beauty to your home, and to make everyone in it feel glamorous, relaxed, and well-cared for.
Some featured chapters include:
PLACES FOR CHATTING: Here Deborah explains how to choose furniture—from cozy armchairs and upright chairs to inviting sofas and stools and benches—that will make everyone feel relaxed and welcome.
A BIT OF QUIRK: All homes need a little quirkiness to show that you don't take decorating (or yourself!) too seriously. This chapter covers irreverent and unexpected decorating items like accidental furniture and pictures by children.
COZIFICATIONS: Deborah highlights the need for rugs, textiles, pattern, even a bit of ugly color—all of which add dimension to a room and contribute to a cozy, warm, and welcoming living space!
A DOTED-ON BEDROOM: The bedroom should be the most comfortable, welcoming, and indulgent room in the house. A big bed, excellent linens, pillows, and a bedside command table are all integral to a doted-on bedroom.
A SENSE OF HISTORY: In this chapter, Deborah discusses decorating with sentimental objects from your life and treasures from diverse cultures, traditions, and periods, such as ethnic textiles, pottery, crafts, antiques, and faded rugs.
Styling tips and simple how-tos help you put these pieces together, from creating vignettes on a side table to arranging furniture to mixing textile patterns, and an extensive resource list reveals Deborah's favorite sources for items large and small.
According to Deborah, the point of decorating is to create the background for the best life you can have. And the key is to understand that every home is a work in progress—and that imperfection is not only liberating, but essential for real style and a well-loved home.
# # #
DEBORAH NEEDLEMAN is the editor in chief of WSJ. Magazine and creator of the Off Duty section of the Wall Street Journal. She was the founding editor in chief of domino magazine and coauthored domino: the book of decorating. Deborah was named a "Top Talent to Watch" by Women's Wear Daily, and her writing has appeared in the New York Times and Slate.
VIRGINIA JOHNSON's illustrations have appeared in a series of books by Kate Spade and on her own textiles carried in more than 100 stores, including Anthropologie, Barneys, Liberty of London, and Net-A-Porter.
Related Posts:
You Might Also Like