Press Releases
The New York Times Bestseller Pilgrim's Wilderness by Tom Kizzia, Now In Paperback
A True Story of Faith and Madness on the Alaska Frontier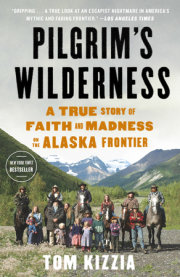 Tom Kizzia
Imprint: Broadway Books
On sale: July 15, 2014
Price: $14.95
Pages: 336
ISBN: 9780307587831
Contact:
Sarah Breivogel
212-572-2722
sbreivogel@randomhouse.com
"Riveting . . . the unadulterated truth, when conveyed with sufficient skill, is not only more illuminating than fiction, but also more entertaining. Tom Kizzia has written an uncommonly insightful book about postfrontier Alaska, an ambitious literary work disguised as a page-turner, very much in the tradition of Edward Hoagland's Notes from the Century Before and John McPhee's Coming into the Country."
—Jon Krakauer, author of Into the Wild and Under the Banner of Heaven

"Extraordinary . . . Mr. Kizzia has done an outstanding job unpacking Pilgrim's story; the book is superbly researched, the writing clear and unflinching." —Wall Street Journal
"Pilgrim's Wilderness is measured, painstakingly reported, and gripping, giving us a true look at an escapist nightmare in America's mythic and fading frontier." —Los Angeles Times

"Not since The Shining has family life off the grid seemed as terrifying as it does in Pilgrim's Wilderness, by Tom Kizzia, but this time the chills come from nonfiction." —ArtsBeat, New York Times
"For those awaiting the next Jon Krakauer–esque classic, look to an Alaska writer named Tom Kizzia. . . .  A gripping nonfiction thriller told with masterful clarity . . . I'm betting it will be the sleeper hit of the summer. Put it at the top of your stack." —Outside magazine
Alaska has long been a refuge for the nation's pioneer spirit. In Pilgrim's Wilderness: A True Story of Faith and Madness on the Alaska Frontier (Broadway Books, July 15, 2014), veteran Alaska journalist Tom Kizzia offers readers a riveting true story of a modern-day homesteading family who played that mythical pioneer role to brilliant advantage—and of the dark secrets that brought them and their remote wilderness community to the brink of disaster.
In 2002 a mysterious man who called himself Papa Pilgrim appeared in eastern Alaska with his wife and sprawling family of fifteen children. They settled on a magnificently isolated site deep in the largest national park in the United States, thirteen miles up a mountain valley from the tiny, ghost town settlement of McCarthy. The Pilgrim Family, whose children were gifted musical performers, claimed to be hardworking, pious, and humble refugees from a sinful world who had come to Alaska seeking privacy and salvation. When Papa bulldozed a road through the wilderness to town, igniting a battle with the National Park Service, the locals at first celebrated his antiestablishment ways. Yet as the strange history emerged of Robert Allan Hale, Papa's given name, tension around the family soon turned neighbor against neighbor.
Kizzia first met the Pilgrims as a reporter for the Anchorage Daily News while covering their battle with the Park Service. He knew the colorful ghost town of McCarthy well, having built his own cabin in the community and written about the local struggle to maintain frontier ways in a modern era. But Robert Hale's trail led Kizzia back to New Mexico and Texas, to a wealthy family with ties to Hoover's FBI, to the mysterious death of a famous politician's daughter, and to oblique connections to the Kennedy assassination. The more he learned about Papa's past, the harder it was to tell whether his children in Alaska were messianic followers or hostages in need of rescue.
From its opening account of the older children's daring secret attempt to escape the Pilgrim compound to the culminating state trooper manhunt for Papa Pilgrim, Pilgrim's Wilderness is an engrossing inside account of horrific hidden parental abuse, a heartrending story of children who must defy their godlike father if they hope to survive. In this powerful piece of Americana, written with uncommon grace and the high drama of Jon Krakauer's adventure narratives, Kizzia uses his unparalleled access to capture an era-defining clash between environmentalists and pioneers touched off by a mesmerizing sociopath who held a town and family captive.
ABOUT THE AUTHOR:
Tom Kizziatraveled widely in rural Alaska when he was a reporter for the Anchorage Daily News. His stories about the Pilgrim Family won a President's Award from McClatchy Newspapers. He is a former Knight journalism fellow at Stanford University and his work has appeared in the Washington Post and has been featured on CNN. His first book, The Wake of the Unseen Object, was named one of the best all-time nonfiction books about Alaska by the state historical society. He lives in Homer, Alaska.
Related Posts: