Press Releases
The New Industrial Revolution from the Editor of Wired
Makers by Chris Anderson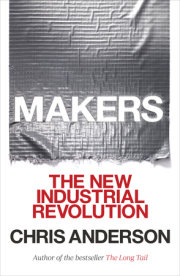 Chris Anderson
Imprint: Crown Business
On sale: October 2, 2012
Price: $26.00
Pages: 272
ISBN: 9780307720955
Contact:
Tara Gilbride
212-572-2872
tgilbride@randomhouse.com
The collective potential of a million garage tinkerers and enthusiasts is about to be unleashed upon the economy 
Chris Anderson, bestselling author of The Long Tail and editor of Wired, reveals how the Maker revolution has the potential to reinvent American manufacturing—and create jobs along the way  
"A visionary preview of the next technological revolution. If you want to know where the future is headed, start here."
–Tom Rath, author of StrengthsFinder 2.0
"MAKERS is must read for understanding the transformative changes that are shaping, and will shape, the future of inventing."
–Dan Ariely, author of Predictably Irrational and The Upside of Irrationality
"Inspiring and engaging. Anderson delivers a compelling blueprint of a future where America can lead in making things again."
–Elon Musk, co-fouder of Tesla Motors and CEO of SpaceX
"In MAKERS, Chris Anderson gives us a fascinating glimpse of a hands-on future, a future where 'if you can imagine it, you can build it.'"
–Dan Heath, co-author of Switch and Made to Stick
"For those who have marveled at the way software has helped disrupt industry after industry – buckle up, that wave is coming soon to an industry near you. Chris Anderson has written a compelling and important book about how technology is about to completely shake up how America makes things.  Required reading for entrepreneurs, policy makers, and leaders who want to survive and thrive in this brave new world."
–Eric Ries, author of The Lean Startup
"The Maker movement powered by desktop manufacturing will revolutionize the global economy. Chris Anderson once again reinvents the future in MAKERS: a big vision driven by down-to-earth and practical ideas. A must read for anyone who wants to see the leading edge of change."
–Peter Schwartz, Co-founder of Global Business Network and author of The Art of the Long View
We are poised to begin a new age of American manufacturing.  So contends bestselling author and Wired editor Chris Anderson in his new book MAKERS: The New Industrial Revolution (Crown Business, October 2, 2012).
New fabrication and manufacturing technologies will prove to be as world-changing as digital media, according to Anderson. In this exciting new book, the award-winning journalist takes you to the front lines of a revolution, showing why the maker movement has the power to restore the American manufacturing sector and inspire new small businesses. "This history of the past two decades online is one of an extraordinary explosion of innovation and entrepreneurship," writes
Anderson. "It's now time to apply that to the real world, with far greater consequences." What Anderson is describing is the Long Tail of Things.
While small business has always been the biggest source of new jobs in America, the great opportunity in the new Maker Movement is the ability to be both small and global. Both artisanal and innovative. Both high-tech and low-cost. Most of all, it is creating the sort of products that the world wants but doesn't know it yet, because those products don't fit neatly into the mass economists of the old model. "What starts as a hobby," he writes, "can become a mini-empire." Anyone with an idea can set assembly lines into motion, with little more than a keystroke.
Today's entrepreneurs, companies such as Local Motors, Makerbot or Sparkfun, are using open source design and 3-D printing to create a tsunami of products in small batches. The tools of factory production, from electronics assembly to cheap and powerful prototyping tools to 3-D printers are now available to everyone; garage startups can manufacture products in batches as small as a single unit, or 10,000 or more.  And thanks to crowdfunding and social financing at companies like Kickstarter and Quirky, entrepreneurs are no longer dependent on venture capitalists or the investment banks to finance their ideas.  And with the global reach of the internet, entrepreneurs are able to sell their products to consumers at home and around the world instantly, while startups like Etsy create new platforms and markets to bring buyers and sellers together.
The days when American manufacturing was dominated by companies with "General" in their name — General Motors, General Electric — is giving way to a world more like the Web, with fast innovation and countless focused startups.  These micro-manufacturers, based on open-source design and DIY manufacturing, will be the future of the global economy. Collectively, all these new producers will reinvent the industrial economy—and create jobs along the way.
ABOUT THE AUTHOR: CHRIS ANDERSON is the editor–in-chief of Wired, which he has lead to multiple National Magazine Award nominations, as well as winning the prestigious top prize for General Excellence in 2005, 2007 and 2009.  In 2009, the magazine was named Magazine of the Decade by the editors of AdWeek.  Anderson is the author of the New York Times bestseller The Long Tail, and Free: The Future of a Radical Price.  He lives in the San Francisco Bay Area.
For more information, visit www.makers-revolution.com or follow @chr1sa

Related Posts:
You Might Also Like