Press Releases
The latest addition to Martha Stewart's wildly popular paperback library features 150 outstanding cake recipes of every variety
MARTHA STEWART'S CAKES: Our First-Ever Book of Bundts, Loaves, Layers, Coffee Cakes, and More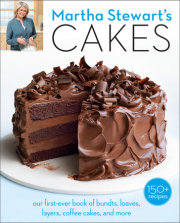 The Editors of Martha Stewart Living
Imprint: Clarkson Potter
On sale: September 24, 2013
Price: $24.99
Pages: 352
ISBN: 9780307954343
Contact:
Kate Tyler
212-572-2551
ktyler@randomhouse.com
Baking trends come and go, but cakes are timeless. The newest addition to Martha Stewart's wildly popular paperback library, MARTHA STEWART'S CAKES: Our First-Ever Book of Bundts, Loaves, Layers, Coffee Cakes, and More (Clarkson Potter/Publishers; September 24, 2013; $24.99; Trade Paperback) is a complete collection of 150 outstanding cake recipes of every variety.
In true Martha Stewart Living style, Martha Stewart's Cakes is laden with beautiful photographs and dozens of techniques, plus ideas for decorating and gifting. A complete Basics section includes tips for ingredients and equipment, essential how-tos (preparing pans, testing for doneness, using a pastry bag, frosting a layer cake, and more), and plenty of inspiration for garnishes, glazes, and accompaniments.
From angel food and sheet cakes to streusel and no-bake cakes, from comfort classics like red velvet and rich chocolate to sophisticated grown-up fare, including chiffon cakes and tortes, this book has it all.
Sample recipes include:
Loaves: Clementine–Vanilla Bean Loaf Cake, Rhubarb Tea Cakes, and Pistachio Pound Cake
Bundts & Tubes: Chocolate Bundt Cake, Lemon Chiffon Cake, and Glazed Pecan-Raisin Cake
Coffee Cakes: Ultimate Streusel Cake, Blueberry Buckle, and Almond-Berry Coffee Cake
Single Layers: Breton Butter Cake, Poppy-Seed Torte, and Molasses-Spice Cake
Cheesecakes: New York–Style Cheesecake, Blood-Orange No-Bake Cheesecake, and Gingerbread Cheesecake
Icebox: Chocolate–Peanut Butter Icebox Cake, Lemon-Blackberry Semifreddo Roll, and Frozen Espresso Cheesecake
Cakes with Fruit: Coconut-Lime-Berry Cake, Strawberry-Basil Shortcake, and Peach and Cornmeal Upside-Down Cake
Layer Cakes: Chiffon Cake with Strawberries and Cream, Pumpkin Layer Cake, and Gluten-Free Chocolate Layer Cake
The ultimate authority on cakes, Martha Stewart's Cakes is the perfect gift for novice and advanced bakers alike.
ABOUT THE AUTHOR:
MARTHA STEWART LIVING magazine was first published in 1990. Since then, more than three dozen books have been published by the magazine's editors, including the recent bestselling Martha Stewart's Cupcakes, Martha Stewart's Cookies, and Everyday Food: Great Food Fast and the follow-up, Everyday Food: Fresh Flavor Fast.
MARTHA STEWART is the author of three dozen bestselling books on cooking, entertaining, gardening, weddings, and decorating.  She is the host of The Martha Stewart Show, the popular daily syndicated television show.
Related Posts:
You Might Also Like