Press Releases
The Knitter's Book of Socks by Clara Parkes
The Yarn Lover's Ultimate Guide to Creating Socks That Fit Well, Feel Great, and Last a Lifetime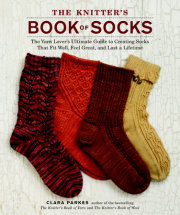 Clara Parkes
Imprint: Potter Craft
On sale: October 11, 2011
Price: $30
Pages: 208
ISBN: 9780307586803
Contact:
Kim Small
212.572.6067
ksmall@randomhouse.com
Call her "The Sock Whisperer."
Clara Parkes, publisher of one of the most widely read knitting websites, www.KnittersReview.com, and bestselling author of The Knitter's Book of Yarn and The Knitter's Book of Wool, has spent her career studying yarn—who creates it, where it comes from, what makes a good yarn, and where yarns can go bad. In her third book, THE KNITTER'S BOOK OF SOCKS: The Yarn Lover's Ultimate Guide to Creating Socks That Fit Well, Feel Great, and Last a Lifetime (Potter Craft, on sale October 11, 2011, $30), Clara brings her singular yarn skills to knitters to show them how to create a perfect pair of socks every time they cast on.
Clara breaks down the three specific demands of sock knitting—elasticity, abrasion resistance, and moisture management—and thoroughly explains how fibers, yarns, and stitches can be manipulated to meet those three needs. Clara will walk readers through the most common fibers suitable for socks, including wool, cotton, alpaca, mohair, nylon, and luxury fibers, such as cashmere, bison, and yak. She'll look at the most common twists and plies for sock yarns, ensuring that knitters know how the fibers and yarns behave. The ability to adapt the stitches to overcome any potential shortcomings in a yarn's fiber or twist composition is crucial knowledge for any sock maker!
THE KNITTER'S BOOK OF SOCKS also includes a carefully curated collection of 20 fresh, original patterns, spanning beginning to advanced, from simple ribbing, stockinette, and knit/purl-based motifs to lace-based patterns, tiny low-relief cables, twisted-stitch motifs, and even beaded floral motifs and twining vines, as well as sock-appropriate colorwork. Designs have been contributed by today's sock-design luminaries, including Cat Bordhi, Cookie A, Nancy Bush, and Melissa Morgan-Oakes.
#    #    #
About the Author:
CLARA PARKES left her career in San Francisco's booming high-tech industry to pursue her love of knitting. Drawing on her experiences as a freelance technology journalist, she founded KnittersReview.com, a top-ten knitting website. Clara is the bestselling author of The Knitter's Book of Yarn and The Knitter's Book of Wool. She now lives on the coast of Maine in a farmhouse full of fleece, fiber, and yarn.
Related Posts: