Press Releases
The Homemade Pantry by Alana Chernila
101 Foods You Can Stop Buying and Start Making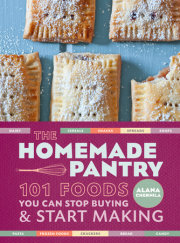 Alana Chernila
Imprint: Clarkson Potter
On sale: April 3, 2012
Price: $29.99
Pages: 288
ISBN: 9780307887269
Contact:
Anna Mintz
212-572-6186
amintz@randomhouse.com
"This is my kitchen. Come on in, but be prepared—it might not be quite what you expect. There is flour on the counter, oats that overflowed onto the floor, chocolate-encrusted spoons in the sink. There is Joey, the husband, exhausted by the preschoolers who were hanging on him all day, and he is stuffing granola into his mouth to ease his five o'clock starvation. There are two little girls trying to show me cartwheels in that minuscule space between the refrigerator and the counter where I really need to be. . . . All I can do is throw up my hands in the midst of it all, and I can almost feel the anxiety of all families trying to get food on the table. Whatever time it is,it is the unfortunate hour that comes over many households right before dinner and links so many of us."
—from the Introduction of The Homemade Pantry
On a mission to kick her family's packaged-food habit, Alana Chernila discovered that, with a little determination, anything she could buy at the store could be made in her kitchen—and the homemade versions were less expensive, more satisfying, and better for the environment and the soul. In The Homemade Pantry (Clarkson Potter/Publishers; April 3, 2012; $24.99; Trade Paperback), her debut cookbook, Alana Chernila presents recipes for 101 everyday staples, organized by supermarket aisle—from crackers to cheese, pancake mix to sauerkraut, and mayonnaise to toaster pastries.
These recipes were born from Alana's tight budget and her desire to make delicious foods from scratch for her schoolteacher husband and two energetic young daughters. Many of the recipes in the book are magically quick and easy to create, from kneading fresh, creamy butter in five minutes to making a delicious, yet simple, homemade ricotta from milk, salt, and a couple of lemons. In beautiful prose that captures the daily humor and foibles of family life, Alana both inspires and teaches the reader, friend to friend, simple but often thrilling basic foodmaking that will change the way they think about the packaged foods they use every day.  Sample recipes featured in the book include:
–Dairy: Buttermilk, Cream Cheese, Yogurt
–Cereal and Snacks: Instant Oatmeal, Toaster Pastries, Potato Chips
–Soup: Potato Leek Soup, Beef Stew, Roasted Butternut Squash Soup
–Baking Needs: Basic Pie Crust, Pancakes and Waffles Ready Mix, Vanilla Extract
–Frozen Goods: Strawberry Ice Cream, Veggie Burgers, Fish Sticks
–Pasta and Sauce: Pasta Dough, Ravioli, Macaroni and Cheese
–Breads and Crackers: Hamburger Buns, Graham Crackers, Tortillas
–Drinks: Rhubarb Ginger Syrup, Hot Chocolate, Lavender Chamomile Tea
–Candy and Sweet Treats: Peanut Butter Cups, Fruit Rollups, Marshmallows
The 101 recipes in this book are accompanied by beautifully written essays on food memories in Alana's life; they also include helpful tips for leftovers and storage suggestions to keep your pantry as fresh as possible. With Alana Chernila's approachable voice and patient and humble advice, including her own tense moments in the kitchen, The Homemade Pantry will encourage readers to step into their own kitchens and think twice before buying foods they can easily make at home.
# # #
ABOUT THE AUTHOR:
ALANA CHERNILA writes, cooks, sells fresh vegetables, and teaches cheese making. She created the blog www.EatingFromTheGroundUp.com in 2008. Alana is a graduate of St. John's College in Santa Fe and lives with her husband and two young daughters in western Massachusetts.
Related Posts:
You Might Also Like